Shopping Cart
Your Cart is Empty
There was an error with PayPal
Click here to try again
Thank you for your business!
You should be receiving an order confirmation from Paypal shortly.
Exit Shopping Cart
The story of Charlie and Kathy Bradford​
Reflections on being an undergraduat​e in my seventies

In July, just one month before my seventy-third birthday, I heard that I'd been awarded my BA in History from Birkbeck, University of London. A 'second-class upper division' (or 2.1) to be precise. So, my student career is over. I can honestly say that I've thoroughly enjoyed the experience and met many really interesting people of all ages who have come from many countries to teach or learn in London. How lucky we are to live so close to such a dynamic, cosmopolitan city.
Of course, the whole learning process was disrupted by Covid. In March 2020, towards the end of my second year, teaching moved online, and stayed that way until the end of my third and final year. I know that the teaching staff moved heaven and earth to make the process of mass online learning as fruitful as they could, but it's just not the same from the student perspective. Online learning is a solitary experience. The main thing that you miss is chatting with fellow students before and after the lecture. From the teachers' perspective, it must be even more frustrating as the teacher has so few body language clues about how his or her message is getting across. In theory, this year's graduates should be attending a graduation ceremony in November, but we don't know whether that too will be forced online. I will be really disappointed if it is.
In the first year of the course, students choose to study history by period, and there are nine periods to choose from, from classical times to the twentieth century, I chose to study three periods of world history covering from 1500 to the present day. My main interest is twentieth-century history, but I also thoroughly enjoyed learning about the early modern world (from 1500 to 1789), which is of course the period when Europeans first encountered other civilisations. Spaghetti Bolognese is a quintessentially European staple, but what would it taste like without pasta - from China - or tomatoes and chilli peppers - from the Americas - or basil - from Africa? What would be left on the plate?
In return for the indigenous Americans introducing us Europeans to tomatoes, peppers, potatoes, maize, and a whole host of other food staples, we gave them horses, which they found quite useful; but we also introduced them to measles and influenza, which may have killed more than forty million of them. If that wasn't enough, we then sent thirteen million Africans to the Americas to be enslaved, but several million of them never arrived on American shores, because the journey was so dangerous. So much modern history is about slavery and genocide that it was a great relief to choose, as one of my second-year modules, a course called 'Being Good in the Modern Age' which is history of altruism and morality. This course began by examining why the Enlightenment philosophers considered kindness and politeness to be important, and went on to cover, inter-alia, the campaign to abolish slavery, the campaigns of the nineteenth century feminists, and, from the twentieth century, the disability rights movement, environmentalism, and the United Nations Universal Declaration of Human Rights. I think that if I had to choose the course that I enjoyed the most, it would be this one.
In the third and final year I wrote my dissertation. Those of you that are already familiar with my blog will know that one of my interests is disability rights, and that I have written the life stories of my parents, both of whom were disabled by polio as young children. So, you won't be surprised at my choice of research project, which was a study of the foundation of the British Polio Fellowship in 1939 and its work between 1939 and 1970. This charity was a self-help movement which in many ways was years ahead of its time; as most charities with this kind of ethos did not emerge until the 1960s. Writing a dissertation during various stages of lockdown is not to be recommended; the library that holds most of the relevant material for a dissertation about polio is the Wellcome Library in Central London, but at no point when I was working on this project was this library open to new readers. Other students will have had similar problems, so I guess we're all in the same boat. Anyway, these are trivial problems compared to what many other people have had to endure during the pandemic. At least it was my final year of university that was disrupted. I feel a lot of sympathy for those eighteen-year-olds who had to endure the stress of the 2020 A-level examinations fiasco, and then go into a university hall of residence to be solely taught online. They deserved better, and it's not the fault of the colleges that things weren't better for them.
The question that I'm asked most often is what next? Am I interested in a master's degree? I have to say that the answer is no. There is no government funding for the over -sixties to go further, and while there are scholarships, I think that there are many younger people who deserve them more than I do. I will carry on writing and start to update my seriously unloved and dated blog more often, starting now. But would I recommend going to Uni to other seventy-somethings. You bet I would!
In this post I'm trying to decide whether society has become more hateful of people with disabilities over the years, or whether it's just the nature of the discrimination and abuse that has changed.
"Live Eels and Grand Pianos" tells the story of Kathy and Charlie Bradford from before World War I to the 1980s. Most of the people that my parents got to know (neighbours,workmates, officialdom, etc) could not have been more supportive of our family.Sometimes Charlie and Kathy depended on the kindness of strangers, as this excerpt from the book (it's describing the 1950s and 1960s) explains:
"Sometimes Charlie would fall over in the house or garden and couldn't get up. By the time I was eleven, I could get him up if I was there, but there were many occasions when I wasn't. When that happened Kathy would wait outside the front door for an able-bodied male to come past, and ask him if he would come into her house to pick her husband up. As soon as I left school and earned money I paid for a phone to be connected."
We lived in Edmonton, North London, about 400 yards from the Tottenham Hotspur stadium, just on the edge of the area that was torched by riots last summer; and I dread to think what the result of inviting a stranger into the family home under those circumstances might be today. But of course it wouldn't be necessary, as a family like our swould have "emergency button" access to care services and would be able toafford a telephone.
However, not everybody was sympathetic or supportive of the many thousands of people who were very visibly disabled by Polio at the time. You can read the first chapter of "Live Eels andGrand Pianos" here to see when and how I first became aware of this at the age of ten.
Two further extracts from the book give an idea of social attitudes to disability in the 1950s:
"In 1950 the Infantile Paralysis Fellowship published a fund raising brochure, and our family featured on page three. The national press picked upon this story, and 'The People' newspaper printed an article about us in November. I would not see this article for sixty years, as nobody kept a copy of it. This publicity had some unwelcome and unexpected consequences. The old man who sold the Evening News at the bottom of our street read it, and not only verbally abused Charlie for bringing up a child that would grow up crippled, but also spat at him."
This second extract describes the experiences of Fred and Joyce Prudence, friends of my parents:
"Fred was married to Joyce, who also had Polio, and they had adopted a girl of about ten; a relative of Joyce's. Fred worked for himself, as a watch repairer, from home. In 1959 Fred and Joyce decided to buy a house in Palmers Green. They needed a mortgage, which was granted. While their house purchase was going through, some neighbours got up a petition to the building society.They didn't want cripples living in their street.  The building society sent the protesters away.Fred and Joyce bought their house."
So, negative attitudes have always existed, and in the time that I wrote about they took different forms, such as low-level bullying, as well as organised campaigns to deprive people with disabilities of their civil rights. But they existed alongside positive attitudes,in particular the positive attitudes of local authority social services departments, politicians and the popular press. I left home at the age of twenty-one in 1969, and the following year saw the enactment of the Chronically Sick and Disabled Persons Act, the first such act in the world to recognise and give rights to people with disabilities.
The Act gave people with disabilities the right to equal access to recreational and educational facilities. It obliged local authorities to provide telephones to people who were isolated as a result of disabilities, and in the first decade Post Office Engineering Union members installed 70,000 telephone lines in their spare time for a nominal charge of 2p per fitting which was then donated to disability charities.
The press was overwhelmingly positive. My family was written about by the National Press several times,because we were so unusual, but they wrote positive things about us. Contrast that with the disgusting,abusive and inaccurate coverage given to the subject by the Murdoch press today.
Three things are fundamentally different today to the times that I wrote about in "Live Eels" Firstly we havea government that is trying to renege on forty years of enlightened legislation,and is prepared to blame these changes on "scroungers"; secondly we have a rabid right-wing national press that seeks to whip up hatred about anybody (refugees, people with disabilities, to name but a few) who looks different and blame them for the economic recession.Thirdly we have a breakdown in large aspects of civil society that has led to riots in our cities, as well as examples of prolonged harassment and cruelty to those who the perpetrators think cannot fight back.
Please let me have your views. Feel  free to comment.
This is the "People" article from 1950 that cased Charlie to be verbally abused: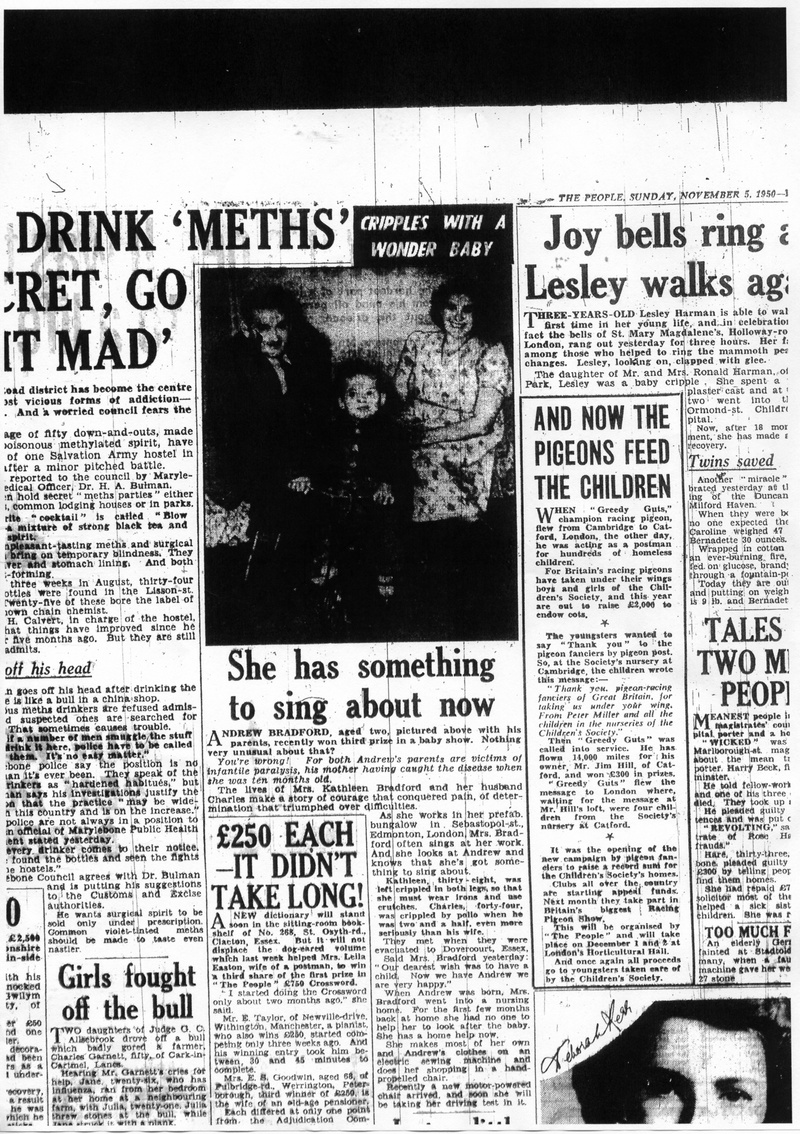 My thoughts on the Tottenham riots and the economic decline of the area where I grew up




Wednesday 9 August 2011




I'm trying to understand what went on in Tottenham last Saturday.  Of course I condemn it, unreservedly; and I condemn the copycat crime that's taken place since then as well. But why did the problem start in Tottenham?




I recently published "Live Eels and Grand Pianos", a story about growing up in Edmonton inthe 1950s and 60s. My family lived yards away from the borough boundary; Tottenham wasn't far from the bottom of our garden. At that time that part of the Lee Valley - Tottenham, Edmonton and Enfield – was an industrial powerhouse.  For over seventy years Harris Lebus & Co operated the world's largest furniture factory from the very same spot in Ferry Lane where a young black man was shot last week. At its peak in the 1940s it employed over 6,000 people on a thirty-six acre site.  The factory closed in 1970.




Just down the road was the Gestetner Cyclograph Company which produced stencils, styli, ink rollers, etc, which enabled an ordinary typewriter to produce documents that could beduplicated in purple ink. People of my age will remember these purple ink pages from our schooldays. They were used to send out invitations to parents'evenings and school plays. The Gestetner works opened in 1906 and employed several thousand people until the 1970s when it lost its reason for existence.The photocopier had arrived. The Gestetner site is now the Tottenham Hale retail park that was trashed and looted last Saturday.




Almost every gas cooker used in British homes after World War II was made by Glover and Main at the Gothic Works in Angel Road Edmonton, which closed in 1983. The land was derelict for over twenty years until an IKEA Store opened in Glover Close (named after the factory) in 2005. Guess what happened – just before opening day IKEA distributed handbills that offered ludicrously low prices to every home in Tottenham; thousands of people turned up for the opening and there was a near-riot as security and police couldn't control the bargain hunters.




In the 1960s the MK Electric Company employed over 3,000 people at twelve factories in and around Edmonton. MK produced virtually every 13 amp plug and socket that was fitted in the UK. MK was created and owned by the Belling and Arnold families; the same families that had founded Belling and Sons in the early twentieth century. Belling electric ovens and electric fires could be found in most British homes. Charles Belling was also a partner in Belling and Lee, based in Ponders End, the first company to manufacture mains radio receivers in the UK.

Belling's electric cooker factories were in Southbury Road Enfield, next door to the huge Thorn Electrical Industries complex on the A10. Jules Thorn created an enormous industrial empire and Enfield was its heart. His local factories produced televisions and radios, lighting, the first MRI scanners, and his empire controlled EMI which brought the Beatles to our hi-fi sets – made by Thorns of course. Thorn's researchers – based in Enfield –designed and engineered the first colour TVs that British families were able to buy in the late 1960s. Enfield was a centre of innovation, not just manufacturing when Jules Thorn was alive. He went on to buy out his local competitors, Belling, and Glover and Main. After his death his business was sold off in bits. Very little of it remains, none of it in Enfield.




Most of these industrialists – Lebus, Gestetner, Belling and Arnold - lived locally and contributed to the local civic society. The Belling foundation still exists to provide educational facilities for Enfield residents. The name of Charles Arnold (the MK founder) lives on as he left his home on the Ridgeway to the Leonard Cheshire Foundation which now operates itas a care home.




I am a trustee of a charity based in Edmonton. As we're always on the lookout for funds, especially as local government funding has been cut – I tried to think of any substantial, nationally known business that was headquartered in this part of the Lee Valley and employed large numbers of local people and which might have the community's interest at heart. The only one I could think of was Tottenham Hotspur Football Club, and that fails at least  two of the tests – they don' t employ large numbers of people (and few of those are locals) and their record as a corporate citizen is lamentable.




Even before last Saturday the north end of Tottenham High Road was full of boarded up properties. Why? Because Spurs had bought them all and was negotiating for planning permission to enlarge its stadium. Then it decided to abandon its roots and move to Stratford, leaving a legacy of economic decline and boarded up shops and homes behind. Spurs are not much of a corporate citizen today but that's hardly surprising. For most of the club's history it was controlled by people who were either born locally and/or lived locally. But in 2001 Alan Sugar sold it to Joe Lewis, a British born but Bahamas based billionaire who is reputed to have made his first billion dollars speculating against the pound on 'Black Wednesday' in 1992.




In the past fifty years thousands of relatively well paid manufacturing jobs that  provided apprenticeships, a sense of shared community values and above all dignity have disappeared from Tottenham, Edmonton and Enfield. New jobs have been created in Central London in financial services and tourism, but they don't go to local youth. London is the most unequal city in the developed world –London's richest 10 per cent are worth 273 times more than the poorest 10 percent. Over 8% of Tottenham residents are claiming benefits. The London average is 4%.None of this excuses what took place last weekend in any way. But what it does show is that economic decline creates conditions where only evil people such as gangsters and looters flourish. They become role models for young people with few prospects.

0

/