Shopping Cart
Your Cart is Empty
There was an error with PayPal
Click here to try again
Thank you for your business!
You should be receiving an order confirmation from Paypal shortly.
Exit Shopping Cart
The story of Charlie and Kathy Bradford​
Some Thoughts About Slavery and the Culture Wars
Slavery has been part of human life since the dawn of history. It is still with us today, as shown by American singer-songwriter Rhiannon Giddens's twenty-first century re-write of 'Barbados', an eighteenth century poem by the abolitionist William Cowper.
Cooper Wrote:
What I hear of their hardships, their tortures, and groans
It's almost enough to draw pity from stones
I pity them greatly, but I must be mum
For how could we do without sugar and rum?
Especially sugar, so needful we see?
What? Give up our desserts, our coffee, and tea?!
Besides, if we do, the French, Dutch, and Danes
Will heartily thank us, no doubt, for our pains
If we do not buy the poor creatures, they will
And tortures and groans will be multiplied still
And Giddens re-wrote those lines as:
I pity them greatly, but I must be mum
For what about nickel, cobalt, lithium?
The garments we wear, the electronics we own?
What? Give up our tablets, our laptops, and phones?!
Besides, if we do, the prices will soar
And who could afford to pay one dollar more?
Sitting here typing it seems well worth the price
And you there, listening on your favorite device
This bargain we're in, well, it's not quite illicit
So relax, my friend, we're not all complicit
It might be argued that today's western consumer, who also enjoys the ability to vote and influence political discourse, knows and cares far less about slavery than his or her eighteenth century counterparts. Our forebears, who by and large, were unable to vote, regularly packed town squares and churches to protest against slavery and used their economic power to boycott slave-produced sugar and rum. Why doesn't the twentieth-century consumer do the same? Could we make a difference if every time we bought a garment from a high-street store, we asked whether it was made from cotton produced by coerced Uighur labour in China, for example?
However, to argue that slavery has always been, and by inference will always be, part of humanity, runs the danger of minimising what happened to thirteen million Africans at the hands of white Europeans from the sixteenth until, in the case of the Belgian Congo, the early part of the twentieth century. More than a million died on the journey to the New World, and those who were enslaved in the West Indian sugar plantations, once sent to work in the field, measured their life expectancy in months not years.
Today, a lot of political discourse is centred around the so-called 'culture wars'. Crudely, the culture wars are presented as a conflict between older people, who are concerned about familiar and loved local landmarks being renamed or demolished; and younger people who are accused of trying to 're-write history'. The National Trust has come in for a lot of criticism for daring to examine the relationship between many of its properties and collections. Specifically, the Trust is researching whether the wealth that established some of its large estates was created by the ownership of other humans. This criticism is, in my opinion, entirely malevolent and unjustified. What is the point of a body such as the NT if it doesn't carry out historical research on its assets? Why should some areas of research be deemed acceptable while others are considered beyond the pale?
In 1784 Samuel Greg opened Quarry Bank Mill in the remote village of Styal, which is now on the outskirts of Manchester. The Mill took cotton that was produced by West Indian slaves and spun it into thread using water-power from the River Bollin. Greg needed a labour force to work the new machinery, and within Britain itself, slavery was not acceptable. Greg needed to find a way of subduing labour without enslaving it, and the solution was to tour the workhouses of London to find children as young as eight years old to work ten-hour days in the mill. These children lived in the cramped Apprentice House, which was controlled by superintendents who, to be fair, did their best to educate them. However, industrial accidents such as severed fingers were common.
Quarry Bank Mill has been owned by the National Trust for many years, and the Trust has always presented visitors with an honest and balanced visitor experience about the role of coerced child labour in the mill's early history. But how was the Mill financed in the first place? The Trust's research concludes that the initial capital came from the Greg family's ownership, over several generations, of slave plantations in Dominica and St. Vincent. When slavery was finally abolished in 1833, Samuel Greg's son Thomas claimed £5,080 - more than half a million pounds in today's money – as compensation for the loss of 210 slaves.
Slavery is only the most extreme form of coerced labour. The young boys and girls who were sent to Quarry Bank Mill's Apprentice House from the workhouses of Hackney and Chelsea were also coerced, but by a lesser degree. In terms of the culture wars, those who criticise the trust should answer the question why they consider it acceptable to point out the Greg family's involvement in the exploitation of children but unacceptable to point out their involvement in slavery. For a nation both to have an honest record of its history, and to understand its place in the modern world, we need to be able to hear, and be prepared to listen to, both stories.
Reflections on being an undergraduat​e in my seventies

In July, just one month before my seventy-third birthday, I heard that I'd been awarded my BA in History from Birkbeck, University of London. A 'second-class upper division' (or 2.1) to be precise. So, my student career is over. I can honestly say that I've thoroughly enjoyed the experience and met many really interesting people of all ages who have come from many countries to teach or learn in London. How lucky we are to live so close to such a dynamic, cosmopolitan city.
Of course, the whole learning process was disrupted by Covid. In March 2020, towards the end of my second year, teaching moved online, and stayed that way until the end of my third and final year. I know that the teaching staff moved heaven and earth to make the process of mass online learning as fruitful as they could, but it's just not the same from the student perspective. Online learning is a solitary experience. The main thing that you miss is chatting with fellow students before and after the lecture. From the teachers' perspective, it must be even more frustrating as the teacher has so few body language clues about how his or her message is getting across. In theory, this year's graduates should be attending a graduation ceremony in November, but we don't know whether that too will be forced online. I will be really disappointed if it is.
In the first year of the course, students choose to study history by period, and there are nine periods to choose from, from classical times to the twentieth century, I chose to study three periods of world history covering from 1500 to the present day. My main interest is twentieth-century history, but I also thoroughly enjoyed learning about the early modern world (from 1500 to 1789), which is of course the period when Europeans first encountered other civilisations. Spaghetti Bolognese is a quintessentially European staple, but what would it taste like without pasta - from China - or tomatoes and chilli peppers - from the Americas - or basil - from Africa? What would be left on the plate?
In return for the indigenous Americans introducing us Europeans to tomatoes, peppers, potatoes, maize, and a whole host of other food staples, we gave them horses, which they found quite useful; but we also introduced them to measles and influenza, which may have killed more than forty million of them. If that wasn't enough, we then sent thirteen million Africans to the Americas to be enslaved, but several million of them never arrived on American shores, because the journey was so dangerous. So much modern history is about slavery and genocide that it was a great relief to choose, as one of my second-year modules, a course called 'Being Good in the Modern Age' which is history of altruism and morality. This course began by examining why the Enlightenment philosophers considered kindness and politeness to be important, and went on to cover, inter-alia, the campaign to abolish slavery, the campaigns of the nineteenth century feminists, and, from the twentieth century, the disability rights movement, environmentalism, and the United Nations Universal Declaration of Human Rights. I think that if I had to choose the course that I enjoyed the most, it would be this one.
In the third and final year I wrote my dissertation. Those of you that are already familiar with my blog will know that one of my interests is disability rights, and that I have written the life stories of my parents, both of whom were disabled by polio as young children. So, you won't be surprised at my choice of research project, which was a study of the foundation of the British Polio Fellowship in 1939 and its work between 1939 and 1970. This charity was a self-help movement which in many ways was years ahead of its time; as most charities with this kind of ethos did not emerge until the 1960s. Writing a dissertation during various stages of lockdown is not to be recommended; the library that holds most of the relevant material for a dissertation about polio is the Wellcome Library in Central London, but at no point when I was working on this project was this library open to new readers. Other students will have had similar problems, so I guess we're all in the same boat. Anyway, these are trivial problems compared to what many other people have had to endure during the pandemic. At least it was my final year of university that was disrupted. I feel a lot of sympathy for those eighteen-year-olds who had to endure the stress of the 2020 A-level examinations fiasco, and then go into a university hall of residence to be solely taught online. They deserved better, and it's not the fault of the colleges that things weren't better for them.
The question that I'm asked most often is what next? Am I interested in a master's degree? I have to say that the answer is no. There is no government funding for the over -sixties to go further, and while there are scholarships, I think that there are many younger people who deserve them more than I do. I will carry on writing and start to update my seriously unloved and dated blog more often, starting now. But would I recommend going to Uni to other seventy-somethings. You bet I would!
This time last year I wrote a number of blog essays on the subject of the Paralympics, the final one expressed three hopes for the future:
Rio must continue what London began. 
The Olympic park legacy must be to provide homes, jobs and recreation for the people of East London.
The right-wing press must stop demonising disabled people.
Last weekend (26 to 28 July) saw the first athletics and para-athletics events in the Olympic Stadium since last summer, as well as the Open East Festival in part of the Olympic Park. On Monday a substantial part of the park was re-opened to the public for the first time. So this is the right time for an update how well we are doing in these three challenges. Let's take them one-by-one:
Rio must continue what London began.
I was referring to the fact that London 2012 was the first time that para-sports had sold out large stadiums, attracted sponsorship and mainstream TV coverage, and was asking whether this could be maintained?
So far, it's looking good. The week before the London Events saw the staging of the International Paralympic Committee's Athletics world championship in Lyon, France. 1300 athletes from 94 countries competed, French mainstream TV (which had been widely criticised for giving inadequate coverage in 2012) gave it 2 hours of coverage each evening; while in the UK Channel 4's More 4 affiliate provided 5 hours of live coverage each day.
GB came sixth in the medal table winning 11 golds, ahead of China but behind, among others, Brazil who won 16 golds. I think it's important that the next host country is doing well at this stage - if they weren't I'd be pessimistic. In Alan Oliveira Brazil has a potential iconic figure who could become the face of both the next Olympics and Paralympics, and that's very encouraging.
The day after the Lyon games closed many of the elite paralympian athletes were facing each other again in the Sainsbury's International Para Challenge in the Sainsbury's Para Challenge in London. This event was once again sold out; over 75,000 people were watching the events in the stadium. Sainsbury's sponsored the event and Channel 4 covered it live.
My party had tickets to the Open East Festival in the Olympic Park (more about that later) so we were thrilled to see things on the big screen. We watched Hannah Cockcroft easily win the T33/T34 100 metres event, David Weir win another victory as he clocked a time of 3:16.40 minutes to win the mile, and the thrilling T43/T44 100 metres race that saw both Alan Oliveira and the USA's Richard Browne break world records, and our own Jonnie Peacock take the 'bronze position.
So I think that the future for participation and coverage of para sporting events still looks very bright.
The Olympic park legacy must be to provide homes, jobs and recreation for the people of East London.
Well the Open East Festival was a definite hit with me on the culture and recreation front. Tickets for each day were only £9.50 and the vent was packed with people of all ages and ethnicities. On Saturday there was a wealth of World Music; headline artists included Vieux Farka Touré - son of the late, great Malian guitarist Ali Farka Touré - as well as Malian superstars Amadou & Mariam. We went on Sunday and the highlights for me were the acrobats Una Via Aerial Circus, a walkabout by Joey, the horse from the National Theatre's War Horse play, and The brilliant Graeae Theatre Company's staging of Ted Hughes's "Iron Man" Here are some of the pictures we took: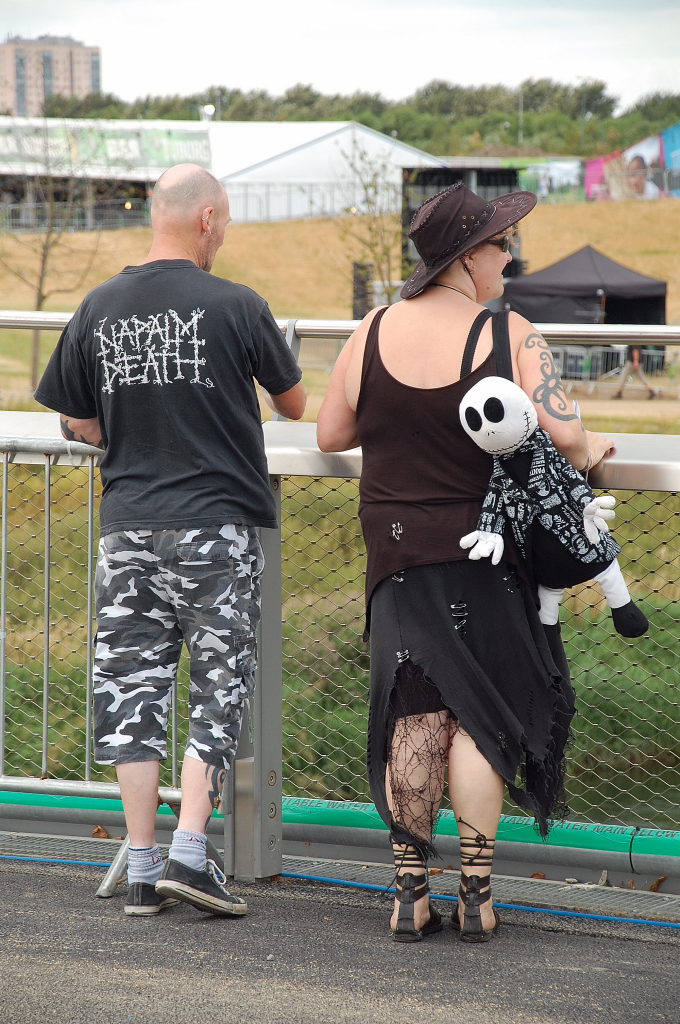 Some of the people we saw at the Festival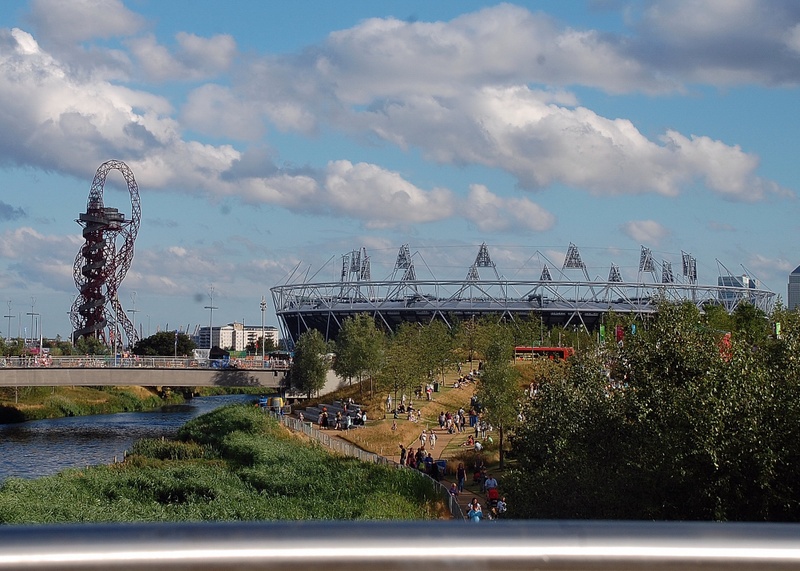 Iconic view of the Stadium from the North Bridge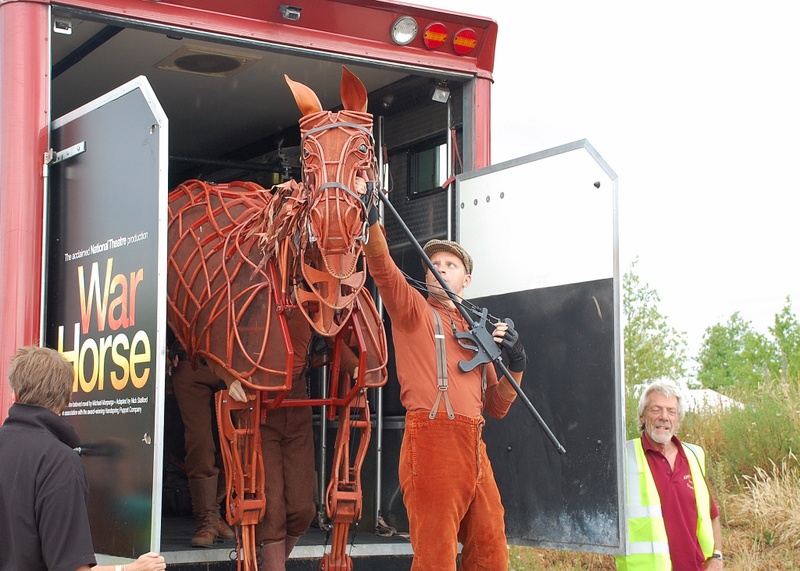 Joey from "War Horse"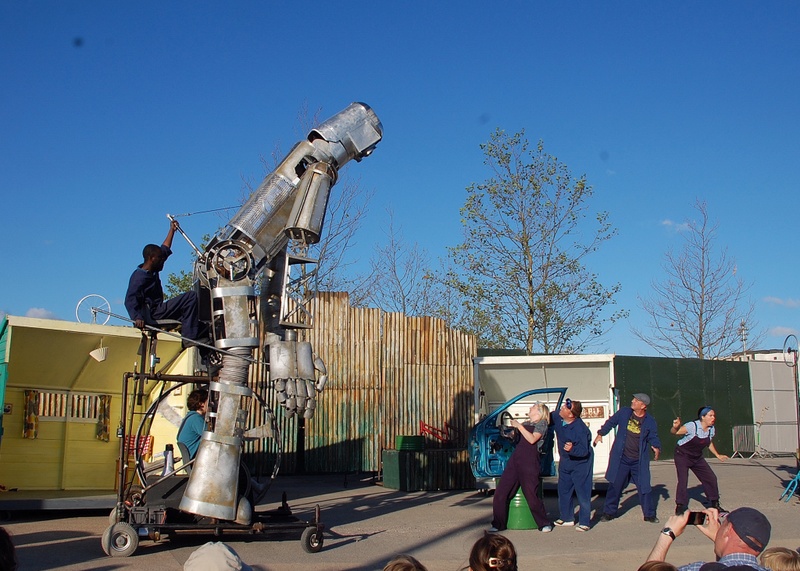 Graeae's "Iron Man"
There's a much longer review of the Festival here - courtesy of the "Daily Telegraph."
On the jobs front, BT are converting the old press centre into TV studios, and as far as homes are concerned apartments in the former Olympic Village will be offered for sale this Autumn. Will these flats be affordable for local people? Prices haven't been announced yet but I have to say that I doubt it. I'll report back when I get more information.
The right-wing press must stop demonising disabled people.
Well, This was always going to be a tall order. Up to half a million people with disabilities are likely to lose financial support as a result of the replacement of Disability Living Allowance (DLA) with Personal Independence Payments (PIP). Dame Tanni Grey-Thompson, writing in the Daily Telegraph, stated that these people are " now at risk of being unable to get the social care support they need to do the basic things in life. What is at stake here is the independence of hundreds of thousands of disabled people." You can read Tanni's full article here.
So how do I score progress on a scale of 1-3?
My current score is 2.75 - I think that para sporting events will continue to be high profile vents, I'm encouraged about the future of the Olympic park site but concerned about the cost of housing, and desperately concerned about the place of people with disabilities in British society as a whole.
Both sets of games are over, the athletes are currently taking part in the parade through Central London, and the whole nation feels good about itself. It appreciated the generous spirit and hospitality of over 70,000 volunteer games makers, it marvelled at the spectacle of the opening and closing ceremonies and above all it loved to watch athletes from all over the world doing extraordinary things that the vast majority of are just not capable of.
How long before us Londoners go back to being our moody taciturn selves? I hope it's a long time before we forget how to smile at each other.
I'd like to say a few words about the legacy of both sets of games, but concentrating mainly on the Paralympic legacy. There are just three things that I think MUST happen:
The Paralympics: Rio must continue what London began.
I don't think that any of us would have foreseen that the paralympians would play to packed houses in every session, or that over 6 million viewers would watch the Paralympics on Channel 4 on the night that David Weir, Hannah Cockroft and Jonny Peacock all won gold medals. Most of the TV audience and many of the spectators who saw events at the venues probably had never had any contact with disabled people before, and they didn't see the athletes as disabled - just as sportsmen and sportswomen taking part in familiar events such as swimming and long jump and unfamiliar events such as wheelchair rugby and boccia.
London 2012 was the first time ever that the Paralympics received the same level of media attention as the Olympics, and the first time that all seats were sold out. However, not every country gave them the same level of coverage that we saw in the UK. In the USA, not one minute of the games was broadcast live. NBC has scheduled only four hour-long highlights programmes on its Sports channel, followed by one 90-minute round-up. And the highlights won't even be broadcast until October.
In France the only broadcaster that planned to cover the games live was TV8 Mont Blanc, a regional channel that is only available to 70% of the population. The state broadcaster France Television, which aired around 16 hours a day of Olympic coverage, earning record viewing numbers only planned to air a brief highlights show late in the evening. But when an online petition demanding greater coverage garnered 17,000 signatures in a matter of days, the company buckled under the pressure and agreed to schedule a one-hour show in a primetime slot.
So I just hope that the Paralympics didn't "peak" in London, and that Rio can find a way of showing more people just how thrilling and moving disabled sports can be.
The right-wing press must stop demonising disabled people.
The London 2012 competitors showed just how much people with disabilities can achieve. There biggest irony is of course that both sets of games were sponsored by Atos, the outsourcing contractor who is using flawed and cruel tests to deprive many thousands of disabled people of benefits on which they rely. The second irony was seeing government ministers, always quick to encourage the right-wing press to demonise people with disabilities as "scroungers" being equally quick to associate themselves with success by presenting medals.
I wonder what the press coverage will be when one of our paralympians loses his or her mobility allowance when Atos starts testing them for the new Personal Independence Payment scheme that is to replace Disability Living Allowance. Remember that the purpose of replacing DLA with PIP is to cut the cost by 20%.
The Olympic park legacy must be to provide homes, jobs and recreation for the people of East London.
Work starts almost immediately to turn the complex of arenas, pools and buildings which have become so familiar into the newly-named Queen Elizabeth Olympic Park. The new-look park is set to re-open to the public in phases from July 27 next year.
The new Park will include 257 acres of open space, 6.5 km of waterways, the Orbit sculpture and observation tower, and five world-class sports venues. It is expected to host over 2,000 events each year including an annual festival of disability sport which will be one of the first events in the new park next July.
Outside the public park, there are plan to build homes 8,000 homes in five new neighbourhoods and to create 8,000 jobs in a new commercial district north-west of the park centred around the Press Centre and Broadcast Centre.
Well, those are the plans anyway. But long-term regeneration is a hard slog, and at the moment the London 2012 organisers have still to find tenants for the Stadium, the Press Centre and the Broadcast Centre. We are a nation that doesn't build remotely enough homes for our expanding population, and there has to be a lot of doubt as to whether local people will be able to afford the new homes. Let's just hope they get the balance right - it might take a long time. If you remember it took seven years for what was the Millennium Dome to re-open as the O2 Arena.
So, when some of these things take longer than we expected, we'll be able to find plenty of reasons to g back to being our traditional grumpy selves. In the meantime, have smile from me.
Full stadiums, cheering crowds and an opening ceremony that was watched by over eight million people. Over 600 hours of Paralympic activity broadcast on free-to-air TV and a very good medal table for GB. The fact that the games have returned to the country where they were invented has, I'm sure, contributed a great deal to their success.
Here are some thoughts about what I've seen on TV, saw in person at the Olympic Stadium last Friday and, to make it personal, some para-sports related family memoirs.
The Opening Ceremony:
It was always going to be tough job to produce an exhilarating opening ceremony because the whole nation has already seen two Olympic ceremonies in about a month. In addition, a large part of the three hour program is taken up by processions, speeches and flag raising, which are not in themselves riveting viewing.
But the production team, headed by Jenny Sealey and Bradley Hemmings exceeded all expectations. They began by introducing the audience to Professor Stephen Hawking, probably the most famous living disabled person. The cast of over three thousand volunteers, headed by Hawking himself, with Ian McKellen as Prospero, and disabled actor  Nicola Miles-Wildin as Miranda celebrated science, literature, athleticism and human rights using words from both Hawking and Shakespeare's 'The Tempest'.
Cast members with disabilities, including Tanni Grey-Thompson flew from the high wires and the Paralympic flame was carried into the stadium  from the Orbit on a zip wire by 2016 paralympic hopeful Joe Townshend, a 24 year old ex-marine who lost both legs in Afghanistan. The production team used all the facilities of the massive stadium to produce a thrilling piece of physical theatre. The Olympic cauldron was lit by Margaret Maughan who won GB's first ever paralympic medal in Rome in1960; one year after she broke her back in a road accident. Margaret Maughan was treated by Ludwig Guttmann, and I think that is fitting that the cauldron was lit by somebody who remembers the movement's founder.
The highlight for me was John Kelly and the cast of "Reasons to be Cheerful" singing Ian Dury's "Spasticus Autisticus" anthem that was originally written for the International Year of the Disabled in 1981, and which was, at the time, banned from the airwaves by the BBC because the word Spastic (traditionally a term to describe sufferers of cerebral palsy) was becoming taboo in Britain, due to its increasing use as an insult. The BBC did not trust the public to understand Dury's sense of irony.
Spasticus Autisticus is of course a protest song, and this, together with Miranda's shattering of the glass ceiling was large part of the human rights theme of the ceremony.
Our visit to theGames – Friday 31 August
Marilyn and I went to the evening athletics session on Friday. We were fortunate enough to see an iconic moment - Hannah Cockroft win GB's first track gold medal in the T34 100 metres race. From high up on level two I managed to get a fairly decent picture of Hannah and the runners-up celebrating. We were thrilled at the spectacle of the full stadium and the cheering crowds.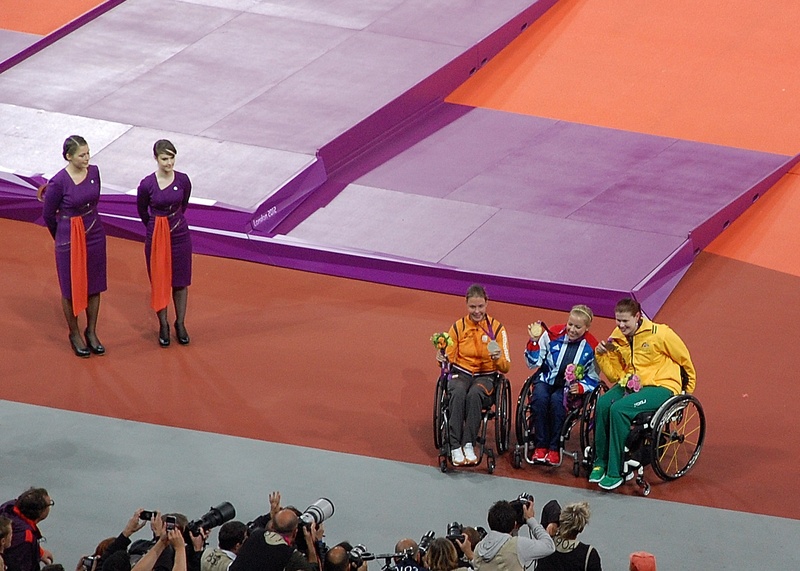 The Paralympic games have moved on so much since Atlanta sixteen years ago. Yesterday I posted something about the current games on the Polio History Facebook page, and got these comments from Kathy Gregory Davies, who was a member of the GB basketball team in Atlanta. Kathy wrote:

In Atlanta, the organisers had only 3% of the budget left after the Olympics. They were selling off furniture etc in the accommodation to make up the shortfall.Some of the teams had no blankets, microwaves were gone, one of the food halls was closed down, though they had to re-open it. One American offered my team accommodation in his hotel when he heard how bad it was. Luckily, we had a good psychologist with us: btw, we stayed with the rest of the Brits, but thanked the hotelier for his offer.
A personal memoir –My Mum, Ludwig Guttmann and Ian Dury
I've always known who Ludwig Guttmann is, ever since I was a child. That's because my mum, Kathy Bradford, often talked about him. Even though she was not a particularly sporty person, way back in the 1950s and1960s she know about the work that he was doing to enable people like her to excel.
But Kathy died in 1995, and I must admit that I'd forgotten thatI knew anything about Guttmann until the run-up to the games. I'm quite pleased that I knew of what he was doing so many years before he belatedly became a knight of the realm and the subject of a TV docu-drama.
Ludwig Guttmann may have been one of Kathy's heroes but Ian Dury was certainly not a hero to her. She was scandalised by the very thought of a song being titled "Spasticus Autisticus", which made her one of the people whom the BBC wished to protect. But in 1981 she was almost seventy years old, and that explains a lot of her dislike of Ian Dury. She loved pop and rock but she much preferred Wham, the Beatles and Patsy Cline. She wasn't that keen on the Stones or Bob Dylan either. I don't think that she ever heard "Spasticus" because it wasn't played on the radio, and she certainly wasn't going to buy it and lend it her support. I could have lent her my copy of Ian's "New Boots and Panties" album but I don't think that she would have approved of the opening lines of "Plaistow Patricia". You can look up what those lines are here – I'm also conscious that some of the readersof this blog may be offended if I print them.
Kathy would be 100 years old this year. I think that if she'd lived to see John Kelly, Nadia Albina and Garry Robson belting out the lyrics to Spasticus at the opening ceremony, and seen thousands and thousands of people supporting the paralympians, she would have got the joke and would have promoted Ian  - as well as John, Nadia and Garry - to hero status.
Last night BBC2 broadcast a one-off drama "The Best of Men",that showed the work of Sir Ludwig Guttmann at Stoke Mandeville Hospital in the1940s. The play was written by Lucy Gannon (Soldier Soldier) and Guttmann was played by the excellent Eddie Marsan (War Horse, Happy Go Lucky). Guttmann's patients – all soldiers - are played by Rob Brydon, disabled actors David Proud and Ben Owen-Jones, and George McKay.
The play showed that spinal injury rehab was a highly unfashionable branch of medicine at the time. Virtually all of the patients were injured servicemen, and those that could be cured by surgery had been cured, while those who couldn't respond to surgery were simply sedated and - quite literally- left to rot as pressure sores took their toll. The life expectancy of a spinal injury survivor at the time was just two years. Guttmann and his team were starved of resources as the medical establishment couldn't see the point of what they were doing.
But Guttmann could empathise with these men because, like them, his life had been shattered. He was a German Jewish refugee who had already lost his career, his country and most of his family. He had fought back to establish a new career in a new country, and he knew that if his patients were to lead fulfilled lives, he had to motivate these men to fight back in thesame way. Sport was just one of his weapons, sheer force of personality was another

Guttmann's story is an example of how immigration has enriched the United Kingdom. Without immigration we'd have no Jessica Ennis, Mo Farah or Ludwig Guttmann, and possibly no Paralympic movement.
There's an exhibition about Guttmann's work at London's Jewish Museum until September 16th.
I thought I'd post a few blog entries about the London 2012 Paralympic Games.  This is the first one, and I'm going to tell you a little bit about the origins of Para Sports, as well as show you a few family photographs of para-sports in 1949: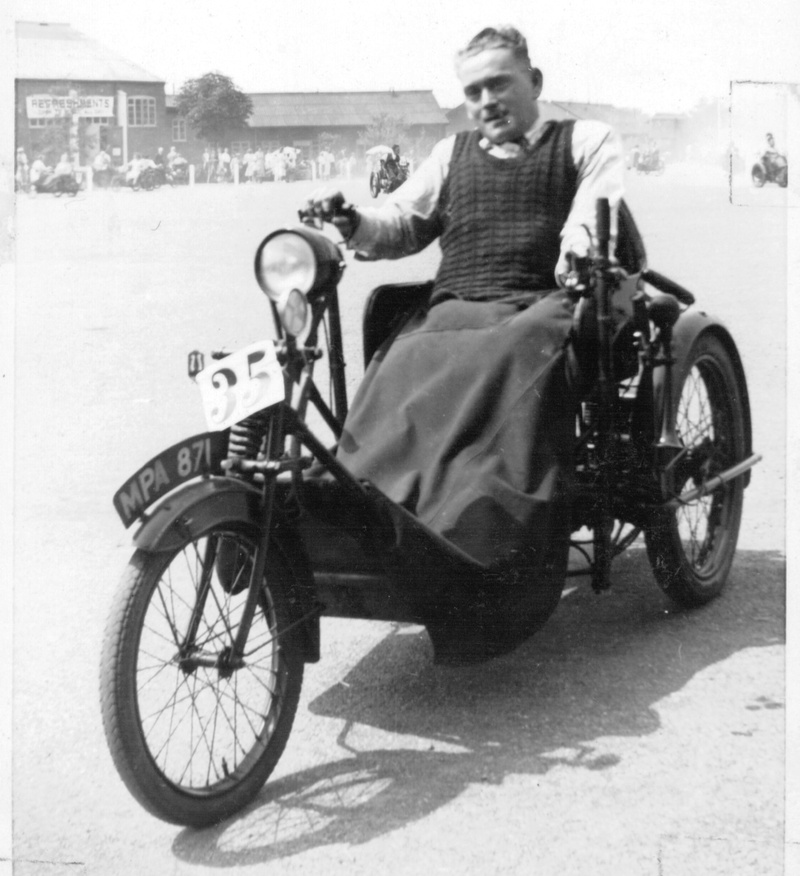 People with disabilities have always taken part in sports. Here is a picture of my Dad, Charlie Bradford, taken at a motor tricycle rally organised by the Invalid Tricycle Association in Finsbury Park, London in about 1949. I can't tell you any more about the event; I was only one year old at the time!
I'll tell you more about the ITA and its sports rallies later on in the blog, but first let's talk about the Paralympic movement and its founder, Sir Ludwig Guttmann.
Sir Ludwig Guttmann and the Stoke MandevilleGames
Guttmann was born in Tost, Upper Silesia, Germany (now Toszek, Poland) and graduated in medicine at the University of Breslau in 1924. As a student, he developed a deep interest in the treatment of spinal cord injuries. He came to Great Britain as a refugee in 1939 and continued his research at Oxford. In 1944, he  founded the National Spinal Injuries Centre at Stoke Mandeville Hospital in Buckinghamshire. Most of his patients were ex-servicemen who had been injured in the war.
Guttmann believed that sport was a method of therapy, using it to help build physical strength and self-respect. He organised the first Stoke Mandeville Games tournament in 1948, and by 1952, this annual event was attracting over 130 international competitors. It continued to grow, impressing Olympics officials and the international community. In 1956 he was awarded the Fearnley Cup, an award for outstanding contribution to theOlympic ideal.
His vision of an international games the equivalent of the Olympics came to fruition in 1960 when the International Stoke Mandeville Games were held in Rome alongside the official IOC 1960 Summer Olympics. Known at the time as the 9th Annual International Stoke Mandeville Games, the Rome games are now recognised as the first Paralympic Games.
In Seoul in 1988 the Paralympic Summer Games were held directly after the Olympic Summer Games, in the same host city, and using the same facilities. This set a precedent that has been followed ever since.
The Paralympic movement originated in Great Britain, and GB has always aimed high and achieved high. Since 1960 GB has been awarded 493 gold medals in the summer games, more than any other country outside the United States, which has been awarded 666 summer golds.
Trischa Zorn of the United States is the most decorated Paralympian in history. She competed in the blind swimming events and won a total of 55 medals, 41 of which are gold. Her Paralympic career spanned 24 years from 1980 to 2004.
Great Britain's most decorated paralympian isTanni Grey Thompson, who won a total of 16 medals, including 11 golds, held over 30 world records, and won the London Marathon six times between 1992 and2002.
Para-sports have always been with us –the Invalid Tricycle Association 1948-1960
If you've read "Live Eels and Grand Pianos" you'll remember that in Chapter 12 I describe meetings of the Invalid Tricycle Association; which is now known as Disabled Motoring UK. Here are two more photos from that sports rally in 1949: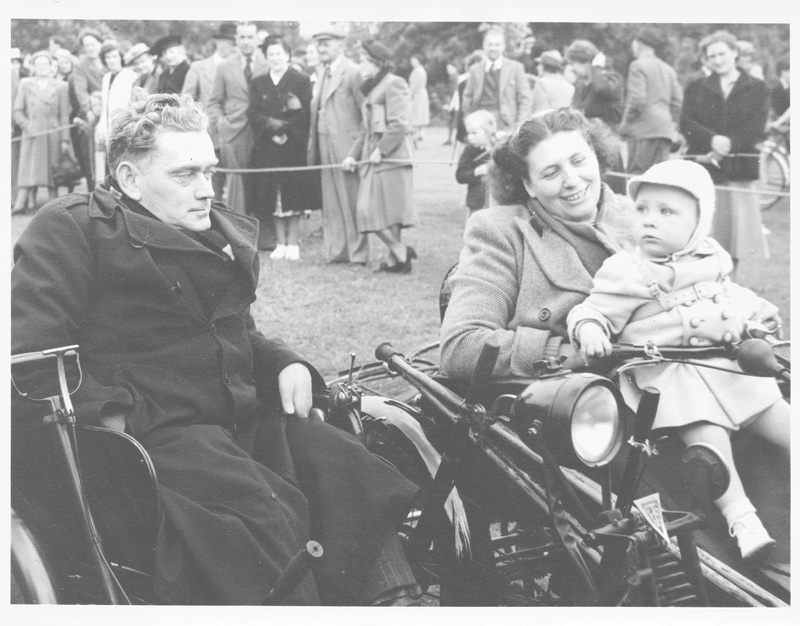 This picture shows me with my Mum and Dad, Charlie and Kathy, at the rally in 1949. I was about a year old. The rally was held in Finsbury Park, only a few miles from the Olympic Park. There was no shortage of spectators,even then.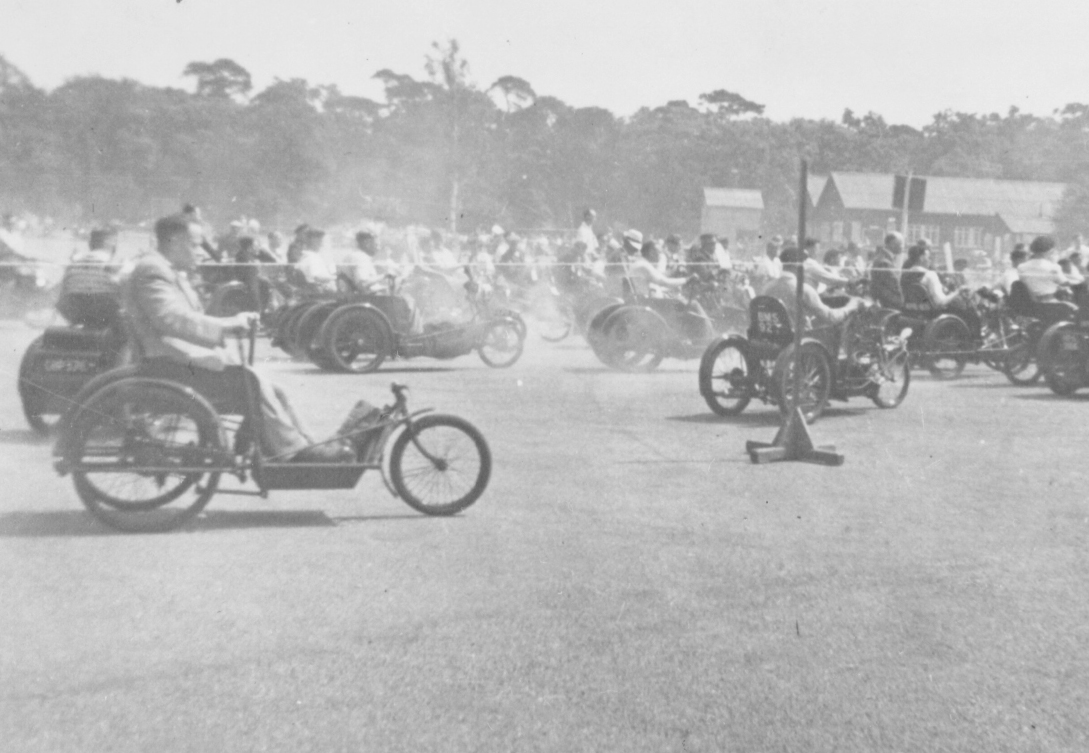 This picture shows a hand-propelled tricycle race at the same rally. I've no idea who the athletes are.
The Invalid Tricycle Association was founded by O. A Denly (1924-2010), who was always known as Denny. In 1945 Denny became paralysed from the waist down by Polio while serving in the Royal Navy , and was issued with a petrol powered tricycle with a maximum speed of 30mph. In June 1947 he crossed the Swiss Alps on it, and in August the same year listeners to the BBCHome Service were enthralled by a broadcast about his extraordinary expedition.
So much interest was aroused by the radio broadcast that an article appeared in Motorcycle Magazine to float the idea of an association, and in January 1948 the Invalid Tricycle Association was formed. Initially the main activities revolved around rallies and excursions. Travel always formed a large part of the ITA, but the association also focused on mutual help and support for its members.
Denny wrote this about his trip across theAlps:
"When in the Royal Navy it was my ambition to spend my first Foreign Service leave in Switzerland, and although I had to leave the Navy due to Infantile Paralysis I decided that it would not stop my visiting Switzerland. So on the evening of the 27th June I left the Albert Dock Hospital in my Argson Invalid Tricycle powered by a 147cc two-stroke engine, with two forward speeds and a top speed of 30m.p.h.The vehicle weighs 250 lbs, with sprung front forks and frame, though there is no springing on the back axle. I cut the load as much as possible, but as I cannot walk at all I had to carry a small collapsible self-propelling wheelchair on the side, for use in buildings, my own bed in case there was no one to carry me upstairs and with food, baggage and myself  the load was approximately260 lbs."
You can read the fulltext of Denly's journey here.
Athletes with disabilities who havecompeted in the Main Olympics
Plenty of paralympians have gone on to compete in the main games. In recent years theSouth African 400 metres runner Oscar Pistorious "the Blade Runner" and his compatriot, swimmer Natalie du Toit have attracted the most publicity.
But not many people know that Ray Ewry, from Indiana USA, a polio survivor, won eight gold medals at the 1908 Olympics. Ewry contracted polio in 1881 when he was eight. In 1889, he was a high school senior still using crutches. The following year, he was an engineering student at Purdue University who was setting records in the standing high jump and long jump, events that have fallen away from the world of track and field. His best standing long jump was 11 feet, 4 7/8 inches. Nick Winkelman, director of performance education at Athletes' Performance, trains America's top collegefootball players for the NFL. He says current players don't come close to Ewry.
*****
I'll blog more about the Paralympics after the opening ceremony, and after I've been to the stadium on 31 August to watch the following events in the evening:
Men's Long Jump Final- F42/44
Women's Discus Throw Final - F40
Women's 200m Round 1- T46
Men's 100m Round 1- T35
/