Shopping Cart
Your Cart is Empty
There was an error with PayPal
Click here to try again
Thank you for your business!
You should be receiving an order confirmation from Paypal shortly.
Exit Shopping Cart
The story of Charlie and Kathy Bradford​
Some Thoughts About Slavery and the Culture Wars
Slavery has been part of human life since the dawn of history. It is still with us today, as shown by American singer-songwriter Rhiannon Giddens's twenty-first century re-write of 'Barbados', an eighteenth century poem by the abolitionist William Cowper.
Cooper Wrote:
What I hear of their hardships, their tortures, and groans
It's almost enough to draw pity from stones
I pity them greatly, but I must be mum
For how could we do without sugar and rum?
Especially sugar, so needful we see?
What? Give up our desserts, our coffee, and tea?!
Besides, if we do, the French, Dutch, and Danes
Will heartily thank us, no doubt, for our pains
If we do not buy the poor creatures, they will
And tortures and groans will be multiplied still
And Giddens re-wrote those lines as:
I pity them greatly, but I must be mum
For what about nickel, cobalt, lithium?
The garments we wear, the electronics we own?
What? Give up our tablets, our laptops, and phones?!
Besides, if we do, the prices will soar
And who could afford to pay one dollar more?
Sitting here typing it seems well worth the price
And you there, listening on your favorite device
This bargain we're in, well, it's not quite illicit
So relax, my friend, we're not all complicit
It might be argued that today's western consumer, who also enjoys the ability to vote and influence political discourse, knows and cares far less about slavery than his or her eighteenth century counterparts. Our forebears, who by and large, were unable to vote, regularly packed town squares and churches to protest against slavery and used their economic power to boycott slave-produced sugar and rum. Why doesn't the twentieth-century consumer do the same? Could we make a difference if every time we bought a garment from a high-street store, we asked whether it was made from cotton produced by coerced Uighur labour in China, for example?
However, to argue that slavery has always been, and by inference will always be, part of humanity, runs the danger of minimising what happened to thirteen million Africans at the hands of white Europeans from the sixteenth until, in the case of the Belgian Congo, the early part of the twentieth century. More than a million died on the journey to the New World, and those who were enslaved in the West Indian sugar plantations, once sent to work in the field, measured their life expectancy in months not years.
Today, a lot of political discourse is centred around the so-called 'culture wars'. Crudely, the culture wars are presented as a conflict between older people, who are concerned about familiar and loved local landmarks being renamed or demolished; and younger people who are accused of trying to 're-write history'. The National Trust has come in for a lot of criticism for daring to examine the relationship between many of its properties and collections. Specifically, the Trust is researching whether the wealth that established some of its large estates was created by the ownership of other humans. This criticism is, in my opinion, entirely malevolent and unjustified. What is the point of a body such as the NT if it doesn't carry out historical research on its assets? Why should some areas of research be deemed acceptable while others are considered beyond the pale?
In 1784 Samuel Greg opened Quarry Bank Mill in the remote village of Styal, which is now on the outskirts of Manchester. The Mill took cotton that was produced by West Indian slaves and spun it into thread using water-power from the River Bollin. Greg needed a labour force to work the new machinery, and within Britain itself, slavery was not acceptable. Greg needed to find a way of subduing labour without enslaving it, and the solution was to tour the workhouses of London to find children as young as eight years old to work ten-hour days in the mill. These children lived in the cramped Apprentice House, which was controlled by superintendents who, to be fair, did their best to educate them. However, industrial accidents such as severed fingers were common.
Quarry Bank Mill has been owned by the National Trust for many years, and the Trust has always presented visitors with an honest and balanced visitor experience about the role of coerced child labour in the mill's early history. But how was the Mill financed in the first place? The Trust's research concludes that the initial capital came from the Greg family's ownership, over several generations, of slave plantations in Dominica and St. Vincent. When slavery was finally abolished in 1833, Samuel Greg's son Thomas claimed £5,080 - more than half a million pounds in today's money – as compensation for the loss of 210 slaves.
Slavery is only the most extreme form of coerced labour. The young boys and girls who were sent to Quarry Bank Mill's Apprentice House from the workhouses of Hackney and Chelsea were also coerced, but by a lesser degree. In terms of the culture wars, those who criticise the trust should answer the question why they consider it acceptable to point out the Greg family's involvement in the exploitation of children but unacceptable to point out their involvement in slavery. For a nation both to have an honest record of its history, and to understand its place in the modern world, we need to be able to hear, and be prepared to listen to, both stories.
Reflections on being an undergraduat​e in my seventies

In July, just one month before my seventy-third birthday, I heard that I'd been awarded my BA in History from Birkbeck, University of London. A 'second-class upper division' (or 2.1) to be precise. So, my student career is over. I can honestly say that I've thoroughly enjoyed the experience and met many really interesting people of all ages who have come from many countries to teach or learn in London. How lucky we are to live so close to such a dynamic, cosmopolitan city.
Of course, the whole learning process was disrupted by Covid. In March 2020, towards the end of my second year, teaching moved online, and stayed that way until the end of my third and final year. I know that the teaching staff moved heaven and earth to make the process of mass online learning as fruitful as they could, but it's just not the same from the student perspective. Online learning is a solitary experience. The main thing that you miss is chatting with fellow students before and after the lecture. From the teachers' perspective, it must be even more frustrating as the teacher has so few body language clues about how his or her message is getting across. In theory, this year's graduates should be attending a graduation ceremony in November, but we don't know whether that too will be forced online. I will be really disappointed if it is.
In the first year of the course, students choose to study history by period, and there are nine periods to choose from, from classical times to the twentieth century, I chose to study three periods of world history covering from 1500 to the present day. My main interest is twentieth-century history, but I also thoroughly enjoyed learning about the early modern world (from 1500 to 1789), which is of course the period when Europeans first encountered other civilisations. Spaghetti Bolognese is a quintessentially European staple, but what would it taste like without pasta - from China - or tomatoes and chilli peppers - from the Americas - or basil - from Africa? What would be left on the plate?
In return for the indigenous Americans introducing us Europeans to tomatoes, peppers, potatoes, maize, and a whole host of other food staples, we gave them horses, which they found quite useful; but we also introduced them to measles and influenza, which may have killed more than forty million of them. If that wasn't enough, we then sent thirteen million Africans to the Americas to be enslaved, but several million of them never arrived on American shores, because the journey was so dangerous. So much modern history is about slavery and genocide that it was a great relief to choose, as one of my second-year modules, a course called 'Being Good in the Modern Age' which is history of altruism and morality. This course began by examining why the Enlightenment philosophers considered kindness and politeness to be important, and went on to cover, inter-alia, the campaign to abolish slavery, the campaigns of the nineteenth century feminists, and, from the twentieth century, the disability rights movement, environmentalism, and the United Nations Universal Declaration of Human Rights. I think that if I had to choose the course that I enjoyed the most, it would be this one.
In the third and final year I wrote my dissertation. Those of you that are already familiar with my blog will know that one of my interests is disability rights, and that I have written the life stories of my parents, both of whom were disabled by polio as young children. So, you won't be surprised at my choice of research project, which was a study of the foundation of the British Polio Fellowship in 1939 and its work between 1939 and 1970. This charity was a self-help movement which in many ways was years ahead of its time; as most charities with this kind of ethos did not emerge until the 1960s. Writing a dissertation during various stages of lockdown is not to be recommended; the library that holds most of the relevant material for a dissertation about polio is the Wellcome Library in Central London, but at no point when I was working on this project was this library open to new readers. Other students will have had similar problems, so I guess we're all in the same boat. Anyway, these are trivial problems compared to what many other people have had to endure during the pandemic. At least it was my final year of university that was disrupted. I feel a lot of sympathy for those eighteen-year-olds who had to endure the stress of the 2020 A-level examinations fiasco, and then go into a university hall of residence to be solely taught online. They deserved better, and it's not the fault of the colleges that things weren't better for them.
The question that I'm asked most often is what next? Am I interested in a master's degree? I have to say that the answer is no. There is no government funding for the over -sixties to go further, and while there are scholarships, I think that there are many younger people who deserve them more than I do. I will carry on writing and start to update my seriously unloved and dated blog more often, starting now. But would I recommend going to Uni to other seventy-somethings. You bet I would!
Charles Dickens first published A Christmas Carol in 1843 and since then his name has been indelibly associated with Christmas. This novel is credited by historians with reconstructing Christmas as a family centred festival of generosity.
I have my own childhood memories of Dickens at Christmas that I'd like to share with you, and I'd also like to share with you a tale of the remarkable generosity of a man I've probably never met, Mr J.G. Street. I have no idea what the initials J G stand for.
Every Christmas when I was a kid the Harrods van would turn up at our doorstep on the council estate where we lived in Edmonton. That was unusual, I doubt if any other doorsteps on the estate got such a delivery. On the van there were always three parcels for our family; a Christmas cake and a bottle of whisky for my Mum and Dad and a book, usually a Dickens volume, for me. The book was always inscribed in what is now to me obviously an old person's handwriting:
"To Andrew. from Mr J. G. Street. XMAS - year"
Mr Street was my Dad Charlie's pen friend and they'd been writing to each other for over thirty years by the time I was eleven in 1959. Charlie was then just over fifty, but Mr Street was then in his nineties.
Charlie was a working class boy from Edmonton who worked on an assembly line and Mr Street was a public school and Cambridge educated man who had been a successful barrister. We lived in a London council house, but Mr Street lived in a Surrey mansion that had servants quarters, and he still employed servants up to his death. I have no idea whether he ever married or had children, but I suspect he hadn't.
The original reason My Dad and Mr Street had started to write to each other in the late 1920s was because when Charlie was three he had caught the polio virus which left him disabled in both legs and his left arm. This meant that as an adult, before the birth of the NHS, he had to buy crutches, leg irons and wheelchairs and he - as well as countless others like him - didn't have the money to do so.
The Shaftesbury Society - a Christian charity - used to provide people like Charlie with a list of potential wealthy benefactors to whom they could write and ask for assistance, and Dad was given Mr Street's name. In other words they had to write begging letters. But Mr Street gave him financial support for about twenty years until the birth of the NHS meant that it was no longer needed. But these two men from such different backgrounds had become friends. They now wrote to each other as equals.
When Charlie married Kathy - another polio survivor - in 1945, Mr Street was an honoured wedding guest. His wedding present was an art deco seven day clock by Heal's that sat on the mantelpiece in our living room. When I was born in 1948 he sent me a christening present, and he sent me books every year until he died in the early 1960s. I must have met him when I was very small, but I have no memory of it. I do remember my Dad reading the letters from his pen friend and writing back, and the fact that Charlie's letters always began "Dear Mr Street" while the return letters always began "My Dear Bradford". I suppose that's how you were taught to write a personal letter at public school in the 1890s. I also remember having to write him a thank you letter for his Christmas gifts. It wasn't something that my eleven year-old self did very willingly of course.
I still have seven volumes of the Dickens books that Mr Street gave to me - I could never think of giving them away, but the book I really value most of all is my copy of "Treasure Island". It's probably the book that gave me a lifelong love of literature. It's inscribed "Andrew - from Mr Street -Easter 1955." So he must have thought of us at Easter as well as Christmas and birthdays.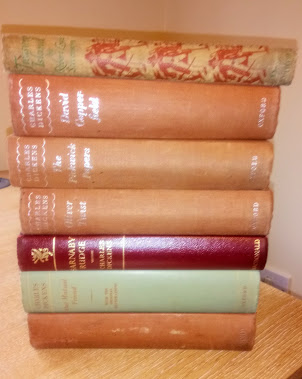 How appropriate that so many of his books were by Dickens. Prior to the publication of A Christmas Carol most families simply celebrated Christmas by going to church. They didn't give gifts to each other, and they didn't see it as a reason for giving to Charity. But by the spring of 1844, The Gentleman's Magazine attributed a sudden burst of charitable giving in Britain to Dickens's novel; in 1874, Robert Louis Stevenson waxed enthusiastic after reading Dickens's Christmas books and vowed to give generously. In America in 1867, a Mr. Fairbanks attended a reading on Christmas Eve in Boston, and was so moved he closed his factory on Christmas Day and sent every employee a turkey.
So let's remember just how much Charles Dickens has influenced the way we celebrate Christmas, and I'll also remember the way he influenced the remarkable Mr J G Street.
Let's also remember that the period that I'm recalling - the 1950s and 60s - was in some ways a golden age for people whose disabilities meant that they needed to use expensive mobility aids such as wheelchairs and mobility vehicles. Quite simply, these were just supplied by the state - the user never entered into a financial transaction. It is of course true that the equipment the state supplied was very basic; there was little choice and little innovation, but the commitment to supply these products rendered the generosity of people like Mr Street redundant. But his friendship was never redundant, even twenty years later.
Today, the state provides cash to people with disabilities in the form of Personal Independence Payments , and it is out of these cash payments that the users are expected to purchase their own mobility aids. It is true, that this form of support provides users with choices about what aids they purchase and from whom they purchase them, and it is also true that this encourages more innovation. However, for many people PIP payments do not provide sufficient funds to purchase what the user needs; assuming of course that they can jump the significant hurdles to qualify for this assistance in the first place
.
On Facebook today you can see crowdfunding appeals to provide wheelchairs and other mobility aids. These are the twenty first century's equivalent of the begging letters of the 1930s and they are being responded to by a new generation of Mr Streets.
 
The first thing that Elliott Roosevelt did when he arrived at the Democratic Party's convention in Chicago in 1932 was to make sure that the curtains were fully drawn across the front of the stage. He had to ensure that the audience of thousands were not in a position to sneak a view of what he had to do in thirty minutes time.
Satisfied that his actions would not be visible, the twenty-two year old son of the former governor of New York then introduced himself to the sound engineer and made sure that the recording would be played as soon as the curtains opened, and hurried back to the stage door where his father was waiting in the car. He lifted his father's wheelchair out of the trunk, pushed it to the front passenger door and opened it.
"You ready Dad?" he asked. Franklin D Roosevelt nodded his approval.
By this time Franklin already knew that he had the won the nomination to be the party's presidential candidate by a landslide, but this was to be the first time that the successful candidate had appeared at the convention to accept the nomination in person. The Roosevelt family had flown to Chicago from Buffalo that morning in a cramped Ford Trimotor plane. Passenger air transport was in its infancy, and the journey through thunderstorms had been arduous. Several members of the family were sick, but their father seemed to relish this new experience. Elliott and his brothers had had great difficulty in carrying their six foot three inch father to his seat, and it was even more difficult to get him off the plane without revealing the full extent of his disability to the waiting press. Elliott and his father were relieved that there were no newsreel cameras at the airport.
As Franklin reached for the top of the car door for support, Elliot reached into the bottom of the footwell and grabbed his father's surgical boots to swing him through ninety degrees so that he was facing him. He then felt for the locking mechanisms on both his father's leg irons, straightened his legs and lifted him out of the car into an upright position. His brother James then brought the wheelchair nearer and Elliott swung his father through one hundred and eighty degrees so that he was in contact with the wheelchair. As Elliott found the locking mechanism on his father's leg irons to put him in a sitting position, James lifted him by the armpits to make sure he was correctly seated.
Elliott began to push his father toward the stage door when his father cried out "My cane, Son". They had forgotten that soon to be president's walking cane was still in the trunk.
Once Franklin and his cane were reunited, Elliott continued the journey. It was still difficult; the corridors were narrow and there were six steps up to the rear of the stage. Elliott, James and a couple of stagehands had to the nominee in his wheelchair onto the stage.
Today would be the first day of a frenetic campaign in which Franklin would visit over twenty states, travelling by car, plane and train. At each stop his sons would have to manhandle him in the same way that they were doing today, and each time they did so aides would be deployed to make sure that no press photographers were around to see the full extent of the candidate's physical impairment. In the FDR presidential library at Hyde Park, New York there are over 35,000 photos of Franklin D Roosevelt. Only one of them shows him in his wheelchair. He was concerned that if the full extent of his disability became public knowledge, he would be unelectable. Before 1932 presidential candidates did not campaign on the road, they stayed at home and wrote articles for newspapers. FDR would change campaigning for ever because he wanted to be seen as a man of action. Firstly he needed to convince the American public that despite surviving Polio eleven years earlier he was physically capable of doing the job, but secondly he just loved campaigning.
When they reached the podium James straightened his father's legs and lifted him out of his wheelchair into an upright position. FDR grabbed the podium to support himself and the wheelchair was taken out of sight. Elliott signalled to the stage manager, and the as the curtains opened the recording of "Happy Days Are Here Again" began to play to the audience, but was drowned out by applause.
FDR lifted one arm from the podium to quell the cheers and began his speech with the words "Let us now and here resolve to resume the country's interrupted march along the path of real progress, of real justice, of real equality for all of our citizens, great and small."
The new deal had begun. A few months later FDR won the presidency by a landslide.
After the convention was over the Roosevelt family went to their hotel. In the hotel bedroom it was Elliott and James who helped their father undress, taking the leg irons off one by one, standing them in the corner and lifting their father onto the bed.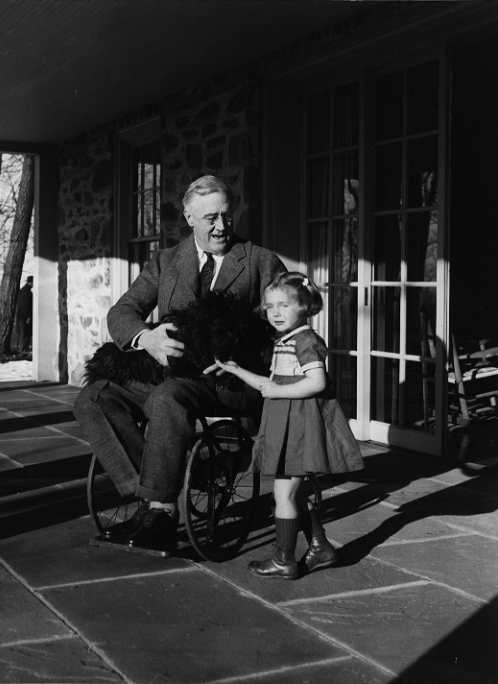 This photograph is reproduced by courtesy of the Franklin D Roosevelt Memorial Library and Museum, Hyde Park, New York
"Twitter is in constant tension between people wanting dialogue and people wanting monologue"
Posted by Scott Berkun on Twitter, 19 November 2012
In January 2011 I attended a self-publishing course. I was just about to self-publish a family memoir called "Live Eels and Grand Pianos", and I needed the course to give me ideas about how to market this book. I was told that Twitter was essential, so I logged in and joined up. I knew very little about it, most of it from hearsay. I had two conflicting ideas about Twitter.
One was that it was full of people telling each other what they'd had for breakfast and how many vodka shots they'd drank last night, but the other was that this forum had been used by protesters in Egypt and other Arab countries to convey news that would be suppressed by government controlled traditional media. I also knew about Trafigura.
In October 2009 London law firm Carter Ruck obtained an injunction barring the Guardian from reporting about its client energy and mining firm Trafigura, The injunction prevented the newspaper from reporting a parliamentary question from Paul Farrelly MP to justice secretary Jack Straw about Trafigura's activities involving the dumping of toxic waste in the Ivory Coast. Trafigura had had to pay €152milion damages to thousands of Ivorians whose health had been damaged as a result. UK Media outlets had been unable to report on the story up until then due to persistent threats from Carter Ruck.
The Guardian simply reported that it was the subject of an injunction from a law firm it couldn't name, acting on behalf of a client it couldn't name, barring it from reporting proceedings in parliament concerning an MP who it couldn't name. Within hours the hashtags #Trafigura and #CarterRuck were all over Twitter, and Carter Ruck withdrew the injunction.
So what was Twitter? A liberating force for freedom of speech and a means where people whose voices are not normally heard could be heard, or just a mass of empty headed banality, or could it be both? I needed to find out.
I sent my first tweet in November 2010 and I've now sent about 1,000. What do I tweet about? Very occasionally I shamelessly plug the two books that I've self published, "Live Eels and Grand Pianos" and "Dotty Dorothy: The Perfect Spy". "Live Eels" is the story of my parents, Kathy and Charlie Bradford, both of whom were left seriously disabled by the Polio virus in the early years of the last century, so I needed to get some followers who may have an interest in the topics of disability rights and disability history. Somehow I stumbled on disability bloggers Sarah Ismail (@Samedifference1) and Kaliya Franklin(@BendyGirl) who have both retweeted my posts about this book, for which I thank them. I also thank them for enlightening me about the discrimination and stigma that people with disabilities face today. I am ashamed to admit that although I knew a lot about the struggles for inclusion that people of my parents generation went through in the early and middle part of the twentieth century I didn't know nearly enough about today's challenges and injustices.
I also tweet about books, writing, publishing and self-publishing, and follow several bloggers on these subjects. I particularly recommend Mick Rooney's (@Mick Rooney7777) Independent Publishing Magazine to anyone contemplating self-publishing. I follow many Guardian and Daily Telegraph journalists, and devour and usually retweet posts about the abuses of power by Rupert Murdoch's evil empire that the Leveson enquiry will pass judgement on shortly.
In the spring of this year Greenacre Writers (@GreenacreWriter) discovered me on Twitter and asked me to read from "Live Eels" at a literary festival in North London. I enjoyed that a lot, and Rosie Canning (one of Greenacre's founders) is currently campaigning against library closures in the London borough of Barnet. I am of course following this campaign on Twitter.
I find that I increasingly depend on Twitter for breaking news, and I worry that as result of these digital initiatives that there may not be any printed newspapers in a few years time. I love the online world, but I think that we would be a much impoverished society if here were no printed newspapers, magazines or books, and no high street outlets where we could browse them.
But my conclusion is that Twitter is a force for good. It does give people and causes a voice that may not otherwise be heard. I hope it's sustainable though. Twitter posted a net loss of $25.8 million on revenue of $23.8 million in the first three months of 2011, and its backers do not have unlimited resources. Let's hope it manages to build the revenues to ensure its long term survival.
For those of you who want to know more about the growth and use of Twitter, here are some facts:
1. Twitter had 400,000 tweets posted per quarter in 2007.
2. In 2008 there were only 3 million registered users and only 1.25 million tweets per day.
3. In 2009 Twitter had 8 million registered users.
4. From 8 employees in 2008 to over 400 employees in 2011.
5. Top 3 countries: US (107.7 million), Japan (29.9 million) and Brazil (33.3 million).
6. It took 3 years, 2 months and 1 day to tweet to the billionth Tweet.
7. Today it only takes one week for users to send a billion Tweets.
8. In March 2010 the average number of tweets people sent per week was 350 million. In February 2011 the average number of tweets people sent per day was 140 million.
9. The most popular Twitter user by number of followers is Lady Gaga. She has more than 18 million followers. She gains followers faster than Twitter adds new accounts.
10. When Michael Jackson died (June 25 2009) there were 456 tweets per second (a record-breaker for its time).
11. The current tweets per second record is 6,939 tweets per second. This was set 4 seconds after midnight in Japan on New Year's Day.
12. On March 12, 2011, 572,000 new accounts were created on that one day.
13. The average number of new accounts per day created in February 2011 was 460,000.
14. The number of mobile users have increased by 182% over the past year.
15. There are an estimated 225 million users in March 2011.
16. In 2010, 25 billion tweets sent and 100 million new accounts were added on Twitter.
17. The first unassisted off-Earth Twitter message was posted from the International Space Station by NASA astronaut T. J. Creamer on 22nd January 2010.
18. 92% Reweet due to interesting content.
19. 69% decide who to follow through suggestions from their friends.
20. Twitter is ranked as one of the ten most visited websites.
21. Tweets are mostly conversational (38%) and pointless babble (40%).
22. Demographics of Twitter users: 54% female. 53% no kids. Users range from incomes of £0-30k (17%) to over £100k (30%). 41.5% are aged 18-39.
23. Twitter is approaching 500 Million Users – Estimated to reach this in 8 days, 7 hours.
24. Currently, Twitter is growing at over 1.123 million accounts per day, which amounts to more than 13 new accounts per second.
25. In the 5 years since launching it has attracted significant investment funds with an estimated total capital raising of over $1.3 billion. The most significant investment was Digital Sky Technology in August, 2010, which was at over $800 million.
26. In June 2011, it was announced that Twitter would be embedded in the new Apple mobile operating system. After the launch of the new Apple mobile iOS5 operating system, Twitter registered sign ups had increased by 300% per day.
27. 60% of new users are coming from outside the U.S.
28. 10 tweets per second mention Starbucks.
29. IBM can predict wait times at airports by crowdsourcing information from tweets. They search tweets for mentions of airports, then send an @reply to the tweeters and ask them to reply with wait times.
30. Scientists can tell with great accuracy where you are from just by the words you use in your tweets.
31. People are more inclined to Tweet something negative than positive. 80% of customer service tweets are negative.
32. Every public tweet since Twitter's inception in March 2006 will be archived digitally at the Library of Congress. IBM plans to map every archived tweet to Wikipedia, and tag it with sentiment, to make them more digestible.
33. Twitter has been valued at $8 billion.
34. 85% of recruiters use Twitter for recruitment.
35. 81% of users follow less than 100 people.
36. 61% of all tweets are in English.
37. 5% of users create 75% of the content
38. 75% of traffic comes from outside of the Twitter interface.
39. 66% of questions asked have some commercial intent.
I thought I'd post a few blog entries about the London 2012 Paralympic Games.  This is the first one, and I'm going to tell you a little bit about the origins of Para Sports, as well as show you a few family photographs of para-sports in 1949: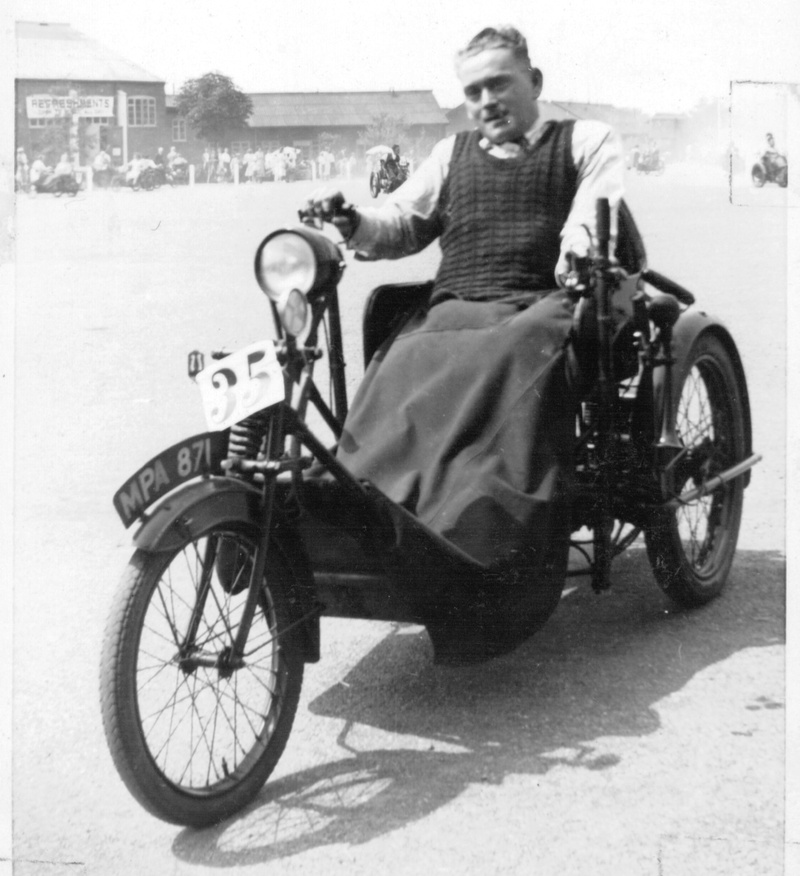 People with disabilities have always taken part in sports. Here is a picture of my Dad, Charlie Bradford, taken at a motor tricycle rally organised by the Invalid Tricycle Association in Finsbury Park, London in about 1949. I can't tell you any more about the event; I was only one year old at the time!
I'll tell you more about the ITA and its sports rallies later on in the blog, but first let's talk about the Paralympic movement and its founder, Sir Ludwig Guttmann.
Sir Ludwig Guttmann and the Stoke MandevilleGames
Guttmann was born in Tost, Upper Silesia, Germany (now Toszek, Poland) and graduated in medicine at the University of Breslau in 1924. As a student, he developed a deep interest in the treatment of spinal cord injuries. He came to Great Britain as a refugee in 1939 and continued his research at Oxford. In 1944, he  founded the National Spinal Injuries Centre at Stoke Mandeville Hospital in Buckinghamshire. Most of his patients were ex-servicemen who had been injured in the war.
Guttmann believed that sport was a method of therapy, using it to help build physical strength and self-respect. He organised the first Stoke Mandeville Games tournament in 1948, and by 1952, this annual event was attracting over 130 international competitors. It continued to grow, impressing Olympics officials and the international community. In 1956 he was awarded the Fearnley Cup, an award for outstanding contribution to theOlympic ideal.
His vision of an international games the equivalent of the Olympics came to fruition in 1960 when the International Stoke Mandeville Games were held in Rome alongside the official IOC 1960 Summer Olympics. Known at the time as the 9th Annual International Stoke Mandeville Games, the Rome games are now recognised as the first Paralympic Games.
In Seoul in 1988 the Paralympic Summer Games were held directly after the Olympic Summer Games, in the same host city, and using the same facilities. This set a precedent that has been followed ever since.
The Paralympic movement originated in Great Britain, and GB has always aimed high and achieved high. Since 1960 GB has been awarded 493 gold medals in the summer games, more than any other country outside the United States, which has been awarded 666 summer golds.
Trischa Zorn of the United States is the most decorated Paralympian in history. She competed in the blind swimming events and won a total of 55 medals, 41 of which are gold. Her Paralympic career spanned 24 years from 1980 to 2004.
Great Britain's most decorated paralympian isTanni Grey Thompson, who won a total of 16 medals, including 11 golds, held over 30 world records, and won the London Marathon six times between 1992 and2002.
Para-sports have always been with us –the Invalid Tricycle Association 1948-1960
If you've read "Live Eels and Grand Pianos" you'll remember that in Chapter 12 I describe meetings of the Invalid Tricycle Association; which is now known as Disabled Motoring UK. Here are two more photos from that sports rally in 1949: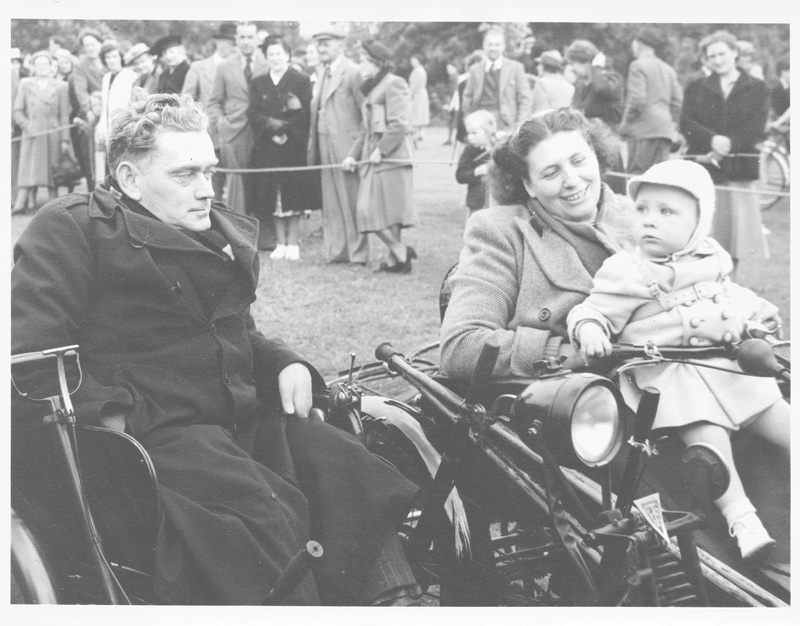 This picture shows me with my Mum and Dad, Charlie and Kathy, at the rally in 1949. I was about a year old. The rally was held in Finsbury Park, only a few miles from the Olympic Park. There was no shortage of spectators,even then.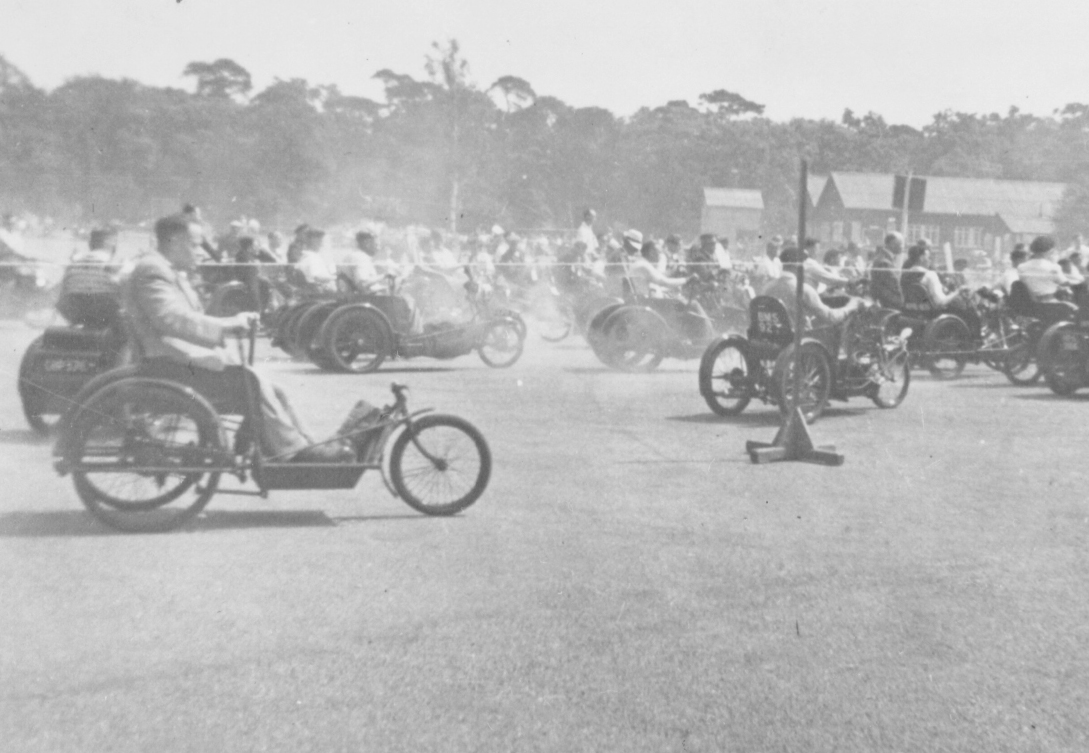 This picture shows a hand-propelled tricycle race at the same rally. I've no idea who the athletes are.
The Invalid Tricycle Association was founded by O. A Denly (1924-2010), who was always known as Denny. In 1945 Denny became paralysed from the waist down by Polio while serving in the Royal Navy , and was issued with a petrol powered tricycle with a maximum speed of 30mph. In June 1947 he crossed the Swiss Alps on it, and in August the same year listeners to the BBCHome Service were enthralled by a broadcast about his extraordinary expedition.
So much interest was aroused by the radio broadcast that an article appeared in Motorcycle Magazine to float the idea of an association, and in January 1948 the Invalid Tricycle Association was formed. Initially the main activities revolved around rallies and excursions. Travel always formed a large part of the ITA, but the association also focused on mutual help and support for its members.
Denny wrote this about his trip across theAlps:
"When in the Royal Navy it was my ambition to spend my first Foreign Service leave in Switzerland, and although I had to leave the Navy due to Infantile Paralysis I decided that it would not stop my visiting Switzerland. So on the evening of the 27th June I left the Albert Dock Hospital in my Argson Invalid Tricycle powered by a 147cc two-stroke engine, with two forward speeds and a top speed of 30m.p.h.The vehicle weighs 250 lbs, with sprung front forks and frame, though there is no springing on the back axle. I cut the load as much as possible, but as I cannot walk at all I had to carry a small collapsible self-propelling wheelchair on the side, for use in buildings, my own bed in case there was no one to carry me upstairs and with food, baggage and myself  the load was approximately260 lbs."
You can read the fulltext of Denly's journey here.
Athletes with disabilities who havecompeted in the Main Olympics
Plenty of paralympians have gone on to compete in the main games. In recent years theSouth African 400 metres runner Oscar Pistorious "the Blade Runner" and his compatriot, swimmer Natalie du Toit have attracted the most publicity.
But not many people know that Ray Ewry, from Indiana USA, a polio survivor, won eight gold medals at the 1908 Olympics. Ewry contracted polio in 1881 when he was eight. In 1889, he was a high school senior still using crutches. The following year, he was an engineering student at Purdue University who was setting records in the standing high jump and long jump, events that have fallen away from the world of track and field. His best standing long jump was 11 feet, 4 7/8 inches. Nick Winkelman, director of performance education at Athletes' Performance, trains America's top collegefootball players for the NFL. He says current players don't come close to Ewry.
*****
I'll blog more about the Paralympics after the opening ceremony, and after I've been to the stadium on 31 August to watch the following events in the evening:
Men's Long Jump Final- F42/44
Women's Discus Throw Final - F40
Women's 200m Round 1- T46
Men's 100m Round 1- T35
/