Shopping Cart
Your Cart is Empty
There was an error with PayPal
Click here to try again
Thank you for your business!
You should be receiving an order confirmation from Paypal shortly.
Exit Shopping Cart
The story of Charlie and Kathy Bradford​
Reflections on being an undergraduat​e in my seventies

In July, just one month before my seventy-third birthday, I heard that I'd been awarded my BA in History from Birkbeck, University of London. A 'second-class upper division' (or 2.1) to be precise. So, my student career is over. I can honestly say that I've thoroughly enjoyed the experience and met many really interesting people of all ages who have come from many countries to teach or learn in London. How lucky we are to live so close to such a dynamic, cosmopolitan city.
Of course, the whole learning process was disrupted by Covid. In March 2020, towards the end of my second year, teaching moved online, and stayed that way until the end of my third and final year. I know that the teaching staff moved heaven and earth to make the process of mass online learning as fruitful as they could, but it's just not the same from the student perspective. Online learning is a solitary experience. The main thing that you miss is chatting with fellow students before and after the lecture. From the teachers' perspective, it must be even more frustrating as the teacher has so few body language clues about how his or her message is getting across. In theory, this year's graduates should be attending a graduation ceremony in November, but we don't know whether that too will be forced online. I will be really disappointed if it is.
In the first year of the course, students choose to study history by period, and there are nine periods to choose from, from classical times to the twentieth century, I chose to study three periods of world history covering from 1500 to the present day. My main interest is twentieth-century history, but I also thoroughly enjoyed learning about the early modern world (from 1500 to 1789), which is of course the period when Europeans first encountered other civilisations. Spaghetti Bolognese is a quintessentially European staple, but what would it taste like without pasta - from China - or tomatoes and chilli peppers - from the Americas - or basil - from Africa? What would be left on the plate?
In return for the indigenous Americans introducing us Europeans to tomatoes, peppers, potatoes, maize, and a whole host of other food staples, we gave them horses, which they found quite useful; but we also introduced them to measles and influenza, which may have killed more than forty million of them. If that wasn't enough, we then sent thirteen million Africans to the Americas to be enslaved, but several million of them never arrived on American shores, because the journey was so dangerous. So much modern history is about slavery and genocide that it was a great relief to choose, as one of my second-year modules, a course called 'Being Good in the Modern Age' which is history of altruism and morality. This course began by examining why the Enlightenment philosophers considered kindness and politeness to be important, and went on to cover, inter-alia, the campaign to abolish slavery, the campaigns of the nineteenth century feminists, and, from the twentieth century, the disability rights movement, environmentalism, and the United Nations Universal Declaration of Human Rights. I think that if I had to choose the course that I enjoyed the most, it would be this one.
In the third and final year I wrote my dissertation. Those of you that are already familiar with my blog will know that one of my interests is disability rights, and that I have written the life stories of my parents, both of whom were disabled by polio as young children. So, you won't be surprised at my choice of research project, which was a study of the foundation of the British Polio Fellowship in 1939 and its work between 1939 and 1970. This charity was a self-help movement which in many ways was years ahead of its time; as most charities with this kind of ethos did not emerge until the 1960s. Writing a dissertation during various stages of lockdown is not to be recommended; the library that holds most of the relevant material for a dissertation about polio is the Wellcome Library in Central London, but at no point when I was working on this project was this library open to new readers. Other students will have had similar problems, so I guess we're all in the same boat. Anyway, these are trivial problems compared to what many other people have had to endure during the pandemic. At least it was my final year of university that was disrupted. I feel a lot of sympathy for those eighteen-year-olds who had to endure the stress of the 2020 A-level examinations fiasco, and then go into a university hall of residence to be solely taught online. They deserved better, and it's not the fault of the colleges that things weren't better for them.
The question that I'm asked most often is what next? Am I interested in a master's degree? I have to say that the answer is no. There is no government funding for the over -sixties to go further, and while there are scholarships, I think that there are many younger people who deserve them more than I do. I will carry on writing and start to update my seriously unloved and dated blog more often, starting now. But would I recommend going to Uni to other seventy-somethings. You bet I would!
I thought I'd post a few blog entries about the London 2012 Paralympic Games.  This is the first one, and I'm going to tell you a little bit about the origins of Para Sports, as well as show you a few family photographs of para-sports in 1949: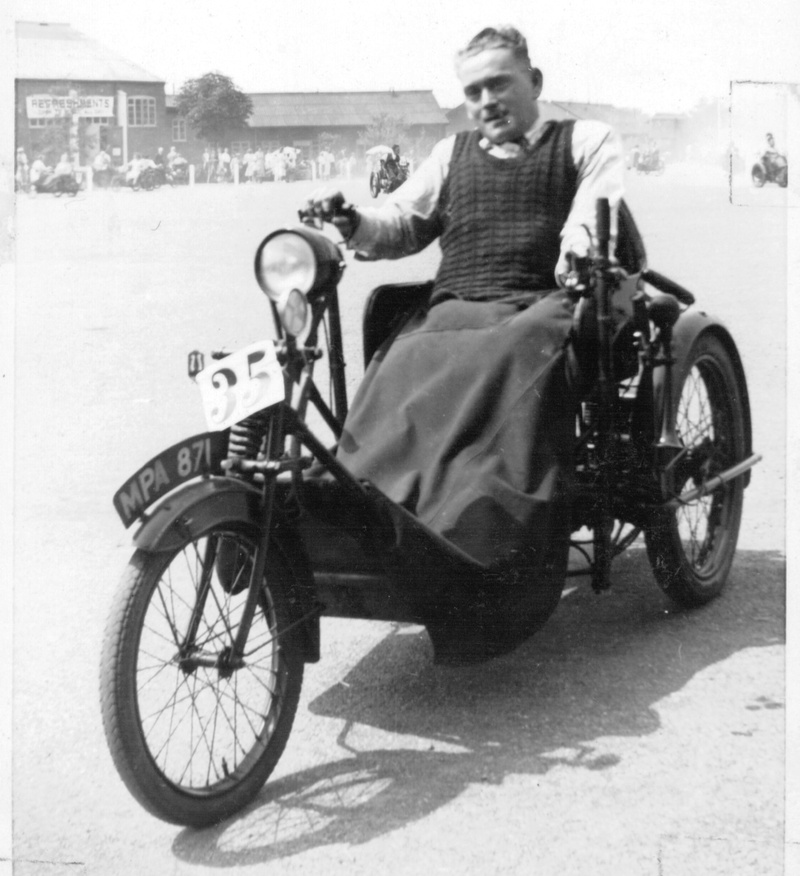 People with disabilities have always taken part in sports. Here is a picture of my Dad, Charlie Bradford, taken at a motor tricycle rally organised by the Invalid Tricycle Association in Finsbury Park, London in about 1949. I can't tell you any more about the event; I was only one year old at the time!
I'll tell you more about the ITA and its sports rallies later on in the blog, but first let's talk about the Paralympic movement and its founder, Sir Ludwig Guttmann.
Sir Ludwig Guttmann and the Stoke MandevilleGames
Guttmann was born in Tost, Upper Silesia, Germany (now Toszek, Poland) and graduated in medicine at the University of Breslau in 1924. As a student, he developed a deep interest in the treatment of spinal cord injuries. He came to Great Britain as a refugee in 1939 and continued his research at Oxford. In 1944, he  founded the National Spinal Injuries Centre at Stoke Mandeville Hospital in Buckinghamshire. Most of his patients were ex-servicemen who had been injured in the war.
Guttmann believed that sport was a method of therapy, using it to help build physical strength and self-respect. He organised the first Stoke Mandeville Games tournament in 1948, and by 1952, this annual event was attracting over 130 international competitors. It continued to grow, impressing Olympics officials and the international community. In 1956 he was awarded the Fearnley Cup, an award for outstanding contribution to theOlympic ideal.
His vision of an international games the equivalent of the Olympics came to fruition in 1960 when the International Stoke Mandeville Games were held in Rome alongside the official IOC 1960 Summer Olympics. Known at the time as the 9th Annual International Stoke Mandeville Games, the Rome games are now recognised as the first Paralympic Games.
In Seoul in 1988 the Paralympic Summer Games were held directly after the Olympic Summer Games, in the same host city, and using the same facilities. This set a precedent that has been followed ever since.
The Paralympic movement originated in Great Britain, and GB has always aimed high and achieved high. Since 1960 GB has been awarded 493 gold medals in the summer games, more than any other country outside the United States, which has been awarded 666 summer golds.
Trischa Zorn of the United States is the most decorated Paralympian in history. She competed in the blind swimming events and won a total of 55 medals, 41 of which are gold. Her Paralympic career spanned 24 years from 1980 to 2004.
Great Britain's most decorated paralympian isTanni Grey Thompson, who won a total of 16 medals, including 11 golds, held over 30 world records, and won the London Marathon six times between 1992 and2002.
Para-sports have always been with us –the Invalid Tricycle Association 1948-1960
If you've read "Live Eels and Grand Pianos" you'll remember that in Chapter 12 I describe meetings of the Invalid Tricycle Association; which is now known as Disabled Motoring UK. Here are two more photos from that sports rally in 1949: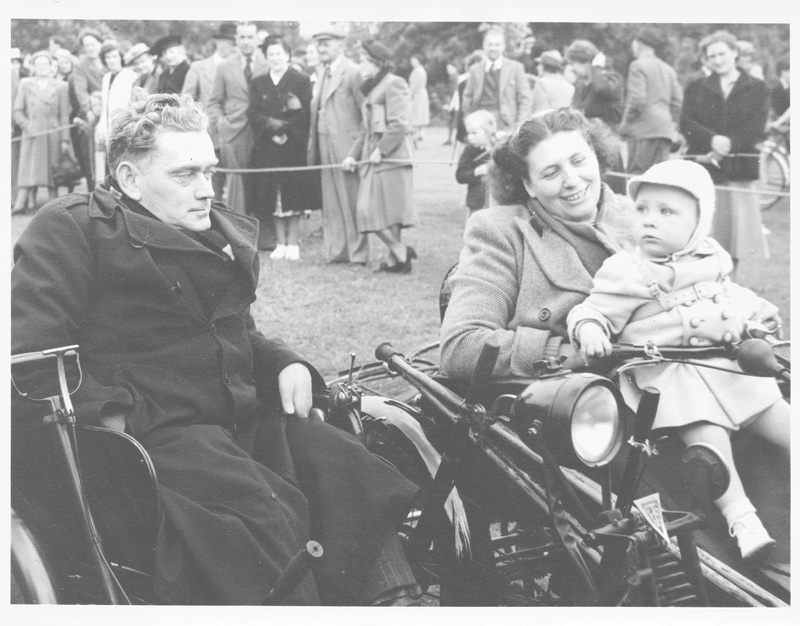 This picture shows me with my Mum and Dad, Charlie and Kathy, at the rally in 1949. I was about a year old. The rally was held in Finsbury Park, only a few miles from the Olympic Park. There was no shortage of spectators,even then.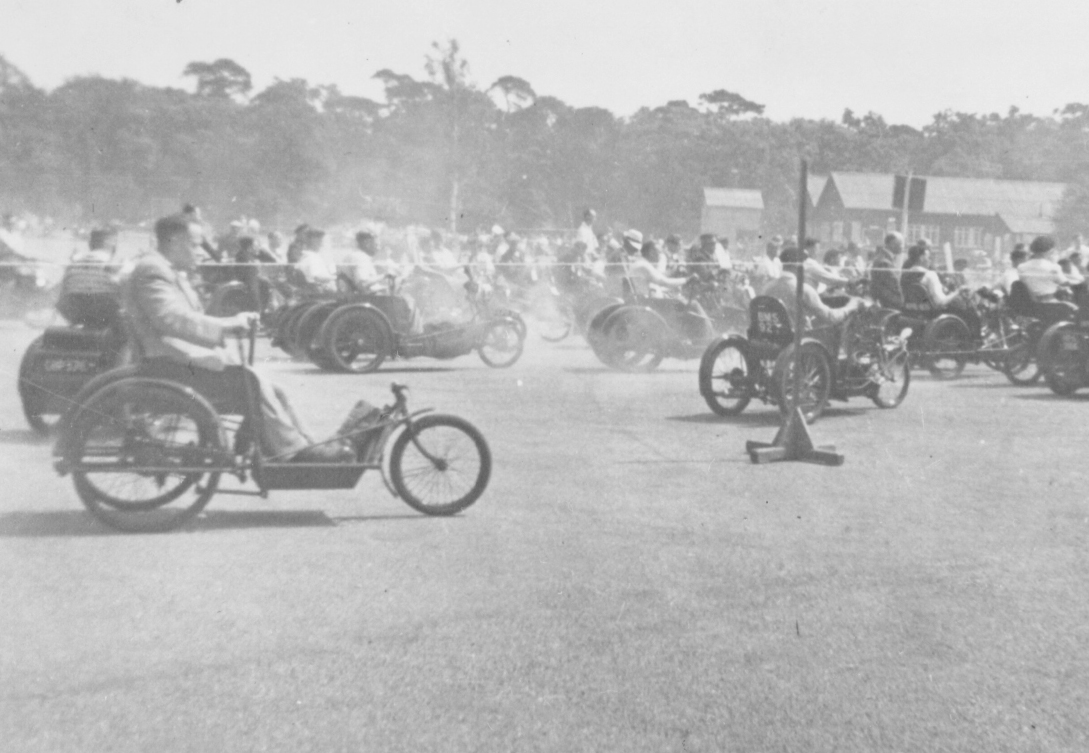 This picture shows a hand-propelled tricycle race at the same rally. I've no idea who the athletes are.




The Invalid Tricycle Association was founded by O. A Denly (1924-2010), who was always known as Denny. In 1945 Denny became paralysed from the waist down by Polio while serving in the Royal Navy , and was issued with a petrol powered tricycle with a maximum speed of 30mph. In June 1947 he crossed the Swiss Alps on it, and in August the same year listeners to the BBCHome Service were enthralled by a broadcast about his extraordinary expedition.




So much interest was aroused by the radio broadcast that an article appeared in Motorcycle Magazine to float the idea of an association, and in January 1948 the Invalid Tricycle Association was formed. Initially the main activities revolved around rallies and excursions. Travel always formed a large part of the ITA, but the association also focused on mutual help and support for its members.




Denny wrote this about his trip across theAlps:




"When in the Royal Navy it was my ambition to spend my first Foreign Service leave in Switzerland, and although I had to leave the Navy due to Infantile Paralysis I decided that it would not stop my visiting Switzerland. So on the evening of the 27th June I left the Albert Dock Hospital in my Argson Invalid Tricycle powered by a 147cc two-stroke engine, with two forward speeds and a top speed of 30m.p.h.The vehicle weighs 250 lbs, with sprung front forks and frame, though there is no springing on the back axle. I cut the load as much as possible, but as I cannot walk at all I had to carry a small collapsible self-propelling wheelchair on the side, for use in buildings, my own bed in case there was no one to carry me upstairs and with food, baggage and myself  the load was approximately260 lbs."




You can read the fulltext of Denly's journey here.




Athletes with disabilities who havecompeted in the Main Olympics




Plenty of paralympians have gone on to compete in the main games. In recent years theSouth African 400 metres runner Oscar Pistorious "the Blade Runner" and his compatriot, swimmer Natalie du Toit have attracted the most publicity.




But not many people know that Ray Ewry, from Indiana USA, a polio survivor, won eight gold medals at the 1908 Olympics. Ewry contracted polio in 1881 when he was eight. In 1889, he was a high school senior still using crutches. The following year, he was an engineering student at Purdue University who was setting records in the standing high jump and long jump, events that have fallen away from the world of track and field. His best standing long jump was 11 feet, 4 7/8 inches. Nick Winkelman, director of performance education at Athletes' Performance, trains America's top collegefootball players for the NFL. He says current players don't come close to Ewry.

*****

I'll blog more about the Paralympics after the opening ceremony, and after I've been to the stadium on 31 August to watch the following events in the evening:




Men's Long Jump Final- F42/44

Women's Discus Throw Final - F40

Women's 200m Round 1- T46

Men's 100m Round 1- T35

0

/