Shopping Cart
Your Cart is Empty
There was an error with PayPal
Click here to try again
Thank you for your business!
You should be receiving an order confirmation from Paypal shortly.
Exit Shopping Cart
The story of Charlie and Kathy Bradford​
Reflections on being an undergraduat​e in my seventies

In July, just one month before my seventy-third birthday, I heard that I'd been awarded my BA in History from Birkbeck, University of London. A 'second-class upper division' (or 2.1) to be precise. So, my student career is over. I can honestly say that I've thoroughly enjoyed the experience and met many really interesting people of all ages who have come from many countries to teach or learn in London. How lucky we are to live so close to such a dynamic, cosmopolitan city.
Of course, the whole learning process was disrupted by Covid. In March 2020, towards the end of my second year, teaching moved online, and stayed that way until the end of my third and final year. I know that the teaching staff moved heaven and earth to make the process of mass online learning as fruitful as they could, but it's just not the same from the student perspective. Online learning is a solitary experience. The main thing that you miss is chatting with fellow students before and after the lecture. From the teachers' perspective, it must be even more frustrating as the teacher has so few body language clues about how his or her message is getting across. In theory, this year's graduates should be attending a graduation ceremony in November, but we don't know whether that too will be forced online. I will be really disappointed if it is.
In the first year of the course, students choose to study history by period, and there are nine periods to choose from, from classical times to the twentieth century, I chose to study three periods of world history covering from 1500 to the present day. My main interest is twentieth-century history, but I also thoroughly enjoyed learning about the early modern world (from 1500 to 1789), which is of course the period when Europeans first encountered other civilisations. Spaghetti Bolognese is a quintessentially European staple, but what would it taste like without pasta - from China - or tomatoes and chilli peppers - from the Americas - or basil - from Africa? What would be left on the plate?
In return for the indigenous Americans introducing us Europeans to tomatoes, peppers, potatoes, maize, and a whole host of other food staples, we gave them horses, which they found quite useful; but we also introduced them to measles and influenza, which may have killed more than forty million of them. If that wasn't enough, we then sent thirteen million Africans to the Americas to be enslaved, but several million of them never arrived on American shores, because the journey was so dangerous. So much modern history is about slavery and genocide that it was a great relief to choose, as one of my second-year modules, a course called 'Being Good in the Modern Age' which is history of altruism and morality. This course began by examining why the Enlightenment philosophers considered kindness and politeness to be important, and went on to cover, inter-alia, the campaign to abolish slavery, the campaigns of the nineteenth century feminists, and, from the twentieth century, the disability rights movement, environmentalism, and the United Nations Universal Declaration of Human Rights. I think that if I had to choose the course that I enjoyed the most, it would be this one.
In the third and final year I wrote my dissertation. Those of you that are already familiar with my blog will know that one of my interests is disability rights, and that I have written the life stories of my parents, both of whom were disabled by polio as young children. So, you won't be surprised at my choice of research project, which was a study of the foundation of the British Polio Fellowship in 1939 and its work between 1939 and 1970. This charity was a self-help movement which in many ways was years ahead of its time; as most charities with this kind of ethos did not emerge until the 1960s. Writing a dissertation during various stages of lockdown is not to be recommended; the library that holds most of the relevant material for a dissertation about polio is the Wellcome Library in Central London, but at no point when I was working on this project was this library open to new readers. Other students will have had similar problems, so I guess we're all in the same boat. Anyway, these are trivial problems compared to what many other people have had to endure during the pandemic. At least it was my final year of university that was disrupted. I feel a lot of sympathy for those eighteen-year-olds who had to endure the stress of the 2020 A-level examinations fiasco, and then go into a university hall of residence to be solely taught online. They deserved better, and it's not the fault of the colleges that things weren't better for them.
The question that I'm asked most often is what next? Am I interested in a master's degree? I have to say that the answer is no. There is no government funding for the over -sixties to go further, and while there are scholarships, I think that there are many younger people who deserve them more than I do. I will carry on writing and start to update my seriously unloved and dated blog more often, starting now. But would I recommend going to Uni to other seventy-somethings. You bet I would!
Three weeks ago - on 17 April - Marilyn and I moved house - for the first time in twenty-three years. That's why there haven't been any updates to my blog since late February and I've been unusually quiet on Twitter - for the month before the move and ever since there's simply been too much to do.
Twenty-three years ago we bought Belle Vue, a Georgian House set in just under half an acre of garden in Cheshunt, Hertfordshire, just outside The Greater London Boundary. Here's a picture of Belle Vue as it was when we moved in. Just out of the picture, on the left is the very large conservatory that joins the house to the old stable block where Marilyn ran a pottery, and above the pottery was a self-contained apartment where Charlotte lived while she was a student: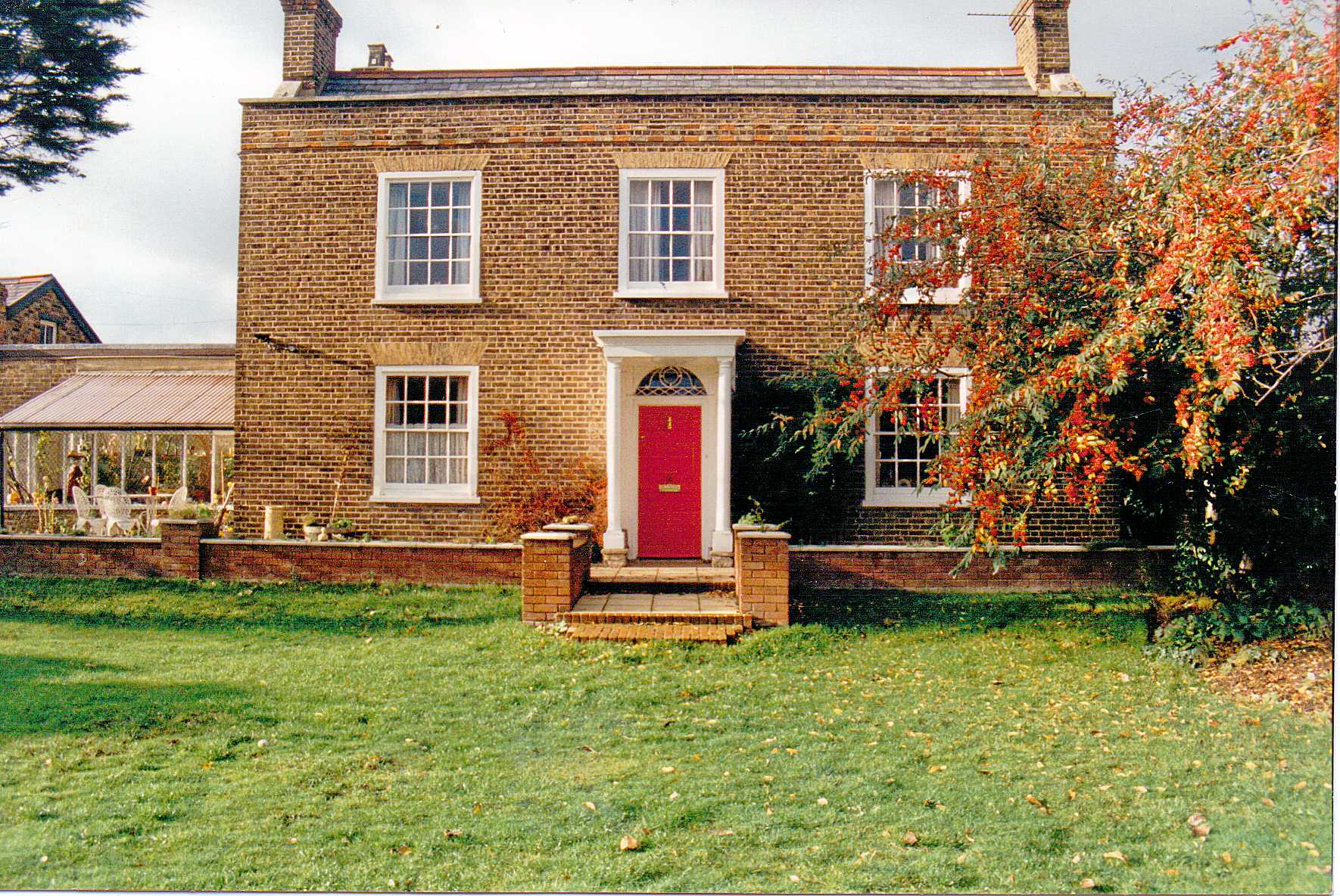 Belle Vue was a wonderful place to bring up our two daughters, Victoria (aged eight at the time) and Charlotte (aged six); but now that they've left home we just wanted something smaller. We wanted both the house and garden to be easier to maintain and cheaper to run. We also wanted to be in a town that had a proper town centre and a good rail service to London; I needed a study where I could write and Marilyn needed an outbuilding that she could convert into a pottery.

 In September last year we found a four bedroom Edwardian detached house (The Old Lodge) in the Hertfordshire market town of Bishops Stortford. The Old Lodge was originally a very small house that was extended and modernised about six years ago. It has a decent sized garden which we have plans for - every house we've ever owned has had apple and plum trees and soft fruit, but here we'll have to start our fruit garden from scratch. The house has a detached double garage that Marilyn will convert into her Studio, and the smallest bedroom is my office where I'm writing now. Elpheba, our cat, has made her home on top of the printer as you can see: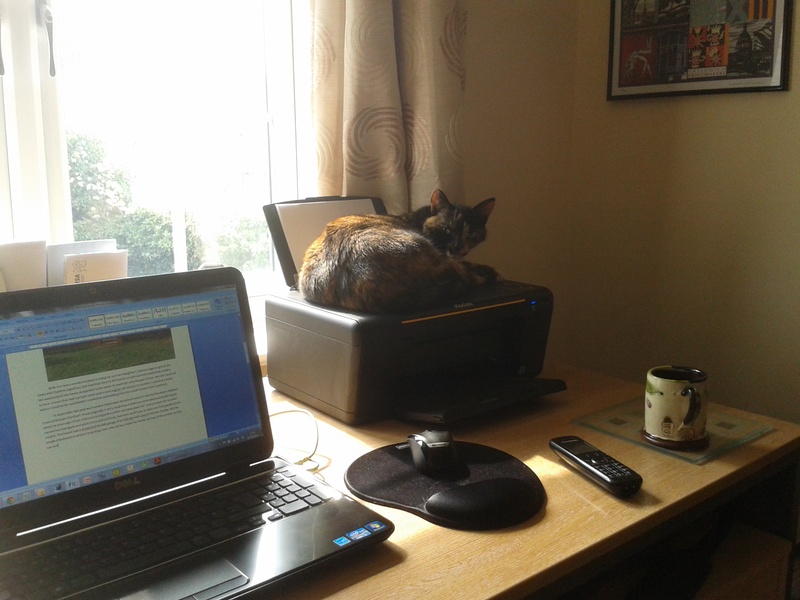 But buying and selling houses in England is far from straightforward and not a process for the nervous. The first buyer we found for our house couldn't find the funds, so Belle Vue went back on the market in January and sold a few weeks later. Luckily for us the house we wanted in Bishops Stortford was still available, but there was an anxious few months while we waited for our buyers to be granted their mortgage on Belle Vue.
The reason that I had to stop writing for two months was because we had to downsize radically. If you live in a house that has two reception rooms, a large conservatory, four large bedrooms, two utility rooms, a stable converted into a potter's studio, a self contained apartment, a greenhouse and a garden shed for twenty-three years then -take my word for this:
you do collect a lot of clutter!
We gave away two sofa beds, a victorian sofa, two tables, a double wardrobe, a rocking horse, a welsh dresser and two chests of drawers to friends and relatives, A couple of hundred books and numerous other possessions went to charity shops. Over 100 vinyl albums were given away, and I've driven a estate car full of rubbish to the dump about a dozen times.
And de-cluttering on this scale is a very satisfying, cathartic process. We are really glad we did this; but doing it, as well as packing about 100 boxes to bring with us and then unpacking them at the new house is hard, physical work. For four weeks we were working twelve hour days, even though friends helped with both the packing and unpacking, and Kean's Removals could not have been more professional, friendly and helpful .
People ask me if there was any element of sadness at leaving a house that we had loved and had lived in for so long. I have to say that we were just too busy to be nostalgic - and we were looking forward to our new home, not looking back. Here's one of the last pictures I took of Belle Vue. After one of the longest and hardest Winters in living memory, Spring finally came to Southern England on the day we moved: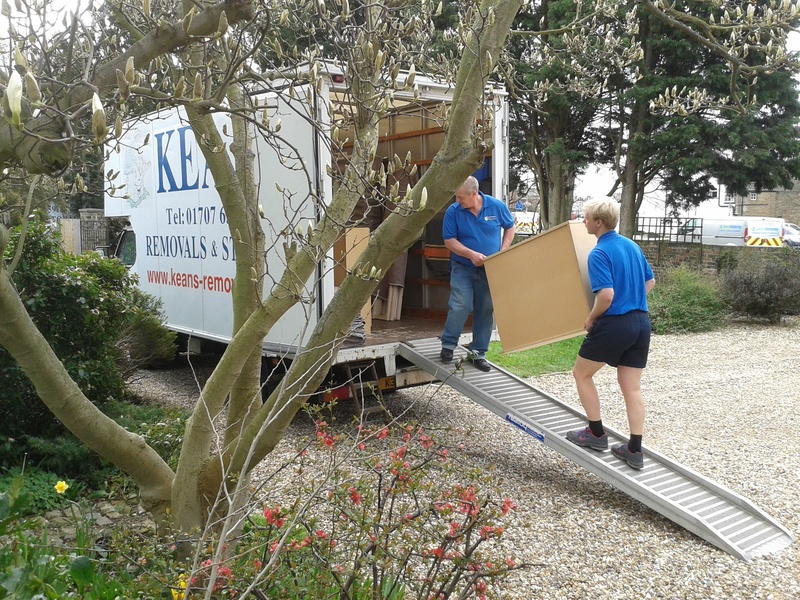 The late arrival of Spring has meant that we've been able to enjoy working in our new garden, and occasionally even just sitting in it. Sometimes it feels as if we're just renting a holiday home for a short time, and the holiday might suddenly come to an end.
We were fortunate to move into a house that had been recently painted throughout in colours that we can quite easily live with, so we were able to unpack our 100 boxes of books, ceramics, photographs and pictures fairly quickly. Unpacking these objects, and finding new positions for them in new rooms has been as satisfying as de-cluttering was in the old house. Some of these possessions seem to have come to life again. We've had to order a new sofa - smaller than the one we gave away - for one of the reception rooms and we're waiting for that to arrive before we can complete the process of furnishing the house. Other than that we've dozens of pictures still to hang, loads of garden reconstruction to do, and we have to convert the garage into a pottery. But before we can do the conversion we need our daughter Victoria and daughter-in-law Helen to collect all the furniture that we've given to them which is currently stored in the garage. Victoria and Helen are also in the process of moving house, they hope to complete their purchase soon.
So we've started work on the garden. Here are a couple of "before and after" pictures. the first was taken a few days before we moved in and the second was taken today. While I am writing the tree surgeon has just phoned. He's coming round to give us a quote for taking down a large Holly tree that's stopping us planting fruit trees: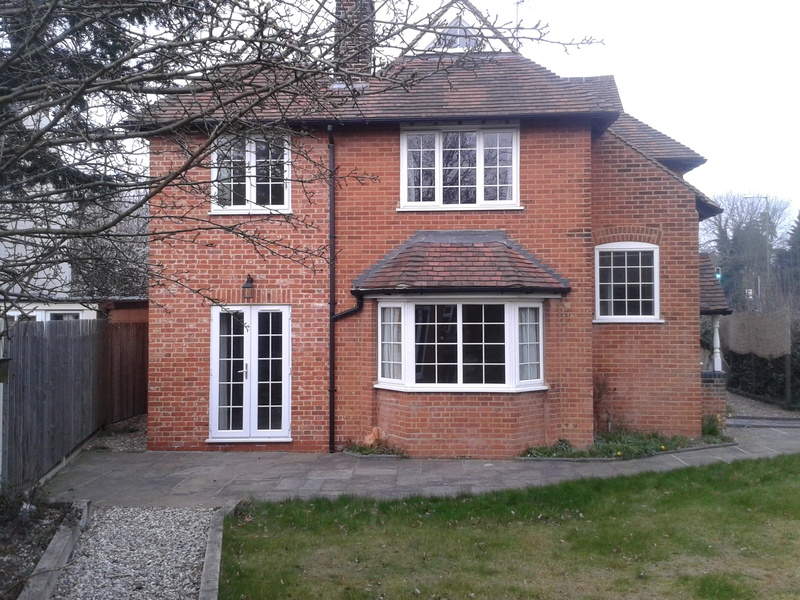 /