Shopping Cart
Your Cart is Empty
There was an error with PayPal
Click here to try again
Thank you for your business!
You should be receiving an order confirmation from Paypal shortly.
Exit Shopping Cart
The story of Charlie and Kathy Bradford​
Some Thoughts About Slavery and the Culture Wars
Slavery has been part of human life since the dawn of history. It is still with us today, as shown by American singer-songwriter Rhiannon Giddens's twenty-first century re-write of 'Barbados', an eighteenth century poem by the abolitionist William Cowper.
Cooper Wrote:
What I hear of their hardships, their tortures, and groans
It's almost enough to draw pity from stones
I pity them greatly, but I must be mum
For how could we do without sugar and rum?
Especially sugar, so needful we see?
What? Give up our desserts, our coffee, and tea?!
Besides, if we do, the French, Dutch, and Danes
Will heartily thank us, no doubt, for our pains
If we do not buy the poor creatures, they will
And tortures and groans will be multiplied still
And Giddens re-wrote those lines as:
I pity them greatly, but I must be mum
For what about nickel, cobalt, lithium?
The garments we wear, the electronics we own?
What? Give up our tablets, our laptops, and phones?!
Besides, if we do, the prices will soar
And who could afford to pay one dollar more?
Sitting here typing it seems well worth the price
And you there, listening on your favorite device
This bargain we're in, well, it's not quite illicit
So relax, my friend, we're not all complicit
It might be argued that today's western consumer, who also enjoys the ability to vote and influence political discourse, knows and cares far less about slavery than his or her eighteenth century counterparts. Our forebears, who by and large, were unable to vote, regularly packed town squares and churches to protest against slavery and used their economic power to boycott slave-produced sugar and rum. Why doesn't the twentieth-century consumer do the same? Could we make a difference if every time we bought a garment from a high-street store, we asked whether it was made from cotton produced by coerced Uighur labour in China, for example?
However, to argue that slavery has always been, and by inference will always be, part of humanity, runs the danger of minimising what happened to thirteen million Africans at the hands of white Europeans from the sixteenth until, in the case of the Belgian Congo, the early part of the twentieth century. More than a million died on the journey to the New World, and those who were enslaved in the West Indian sugar plantations, once sent to work in the field, measured their life expectancy in months not years.
Today, a lot of political discourse is centred around the so-called 'culture wars'. Crudely, the culture wars are presented as a conflict between older people, who are concerned about familiar and loved local landmarks being renamed or demolished; and younger people who are accused of trying to 're-write history'. The National Trust has come in for a lot of criticism for daring to examine the relationship between many of its properties and collections. Specifically, the Trust is researching whether the wealth that established some of its large estates was created by the ownership of other humans. This criticism is, in my opinion, entirely malevolent and unjustified. What is the point of a body such as the NT if it doesn't carry out historical research on its assets? Why should some areas of research be deemed acceptable while others are considered beyond the pale?
In 1784 Samuel Greg opened Quarry Bank Mill in the remote village of Styal, which is now on the outskirts of Manchester. The Mill took cotton that was produced by West Indian slaves and spun it into thread using water-power from the River Bollin. Greg needed a labour force to work the new machinery, and within Britain itself, slavery was not acceptable. Greg needed to find a way of subduing labour without enslaving it, and the solution was to tour the workhouses of London to find children as young as eight years old to work ten-hour days in the mill. These children lived in the cramped Apprentice House, which was controlled by superintendents who, to be fair, did their best to educate them. However, industrial accidents such as severed fingers were common.
Quarry Bank Mill has been owned by the National Trust for many years, and the Trust has always presented visitors with an honest and balanced visitor experience about the role of coerced child labour in the mill's early history. But how was the Mill financed in the first place? The Trust's research concludes that the initial capital came from the Greg family's ownership, over several generations, of slave plantations in Dominica and St. Vincent. When slavery was finally abolished in 1833, Samuel Greg's son Thomas claimed £5,080 - more than half a million pounds in today's money – as compensation for the loss of 210 slaves.
Slavery is only the most extreme form of coerced labour. The young boys and girls who were sent to Quarry Bank Mill's Apprentice House from the workhouses of Hackney and Chelsea were also coerced, but by a lesser degree. In terms of the culture wars, those who criticise the trust should answer the question why they consider it acceptable to point out the Greg family's involvement in the exploitation of children but unacceptable to point out their involvement in slavery. For a nation both to have an honest record of its history, and to understand its place in the modern world, we need to be able to hear, and be prepared to listen to, both stories.
Reflections on being an undergraduat​e in my seventies

In July, just one month before my seventy-third birthday, I heard that I'd been awarded my BA in History from Birkbeck, University of London. A 'second-class upper division' (or 2.1) to be precise. So, my student career is over. I can honestly say that I've thoroughly enjoyed the experience and met many really interesting people of all ages who have come from many countries to teach or learn in London. How lucky we are to live so close to such a dynamic, cosmopolitan city.
Of course, the whole learning process was disrupted by Covid. In March 2020, towards the end of my second year, teaching moved online, and stayed that way until the end of my third and final year. I know that the teaching staff moved heaven and earth to make the process of mass online learning as fruitful as they could, but it's just not the same from the student perspective. Online learning is a solitary experience. The main thing that you miss is chatting with fellow students before and after the lecture. From the teachers' perspective, it must be even more frustrating as the teacher has so few body language clues about how his or her message is getting across. In theory, this year's graduates should be attending a graduation ceremony in November, but we don't know whether that too will be forced online. I will be really disappointed if it is.
In the first year of the course, students choose to study history by period, and there are nine periods to choose from, from classical times to the twentieth century, I chose to study three periods of world history covering from 1500 to the present day. My main interest is twentieth-century history, but I also thoroughly enjoyed learning about the early modern world (from 1500 to 1789), which is of course the period when Europeans first encountered other civilisations. Spaghetti Bolognese is a quintessentially European staple, but what would it taste like without pasta - from China - or tomatoes and chilli peppers - from the Americas - or basil - from Africa? What would be left on the plate?
In return for the indigenous Americans introducing us Europeans to tomatoes, peppers, potatoes, maize, and a whole host of other food staples, we gave them horses, which they found quite useful; but we also introduced them to measles and influenza, which may have killed more than forty million of them. If that wasn't enough, we then sent thirteen million Africans to the Americas to be enslaved, but several million of them never arrived on American shores, because the journey was so dangerous. So much modern history is about slavery and genocide that it was a great relief to choose, as one of my second-year modules, a course called 'Being Good in the Modern Age' which is history of altruism and morality. This course began by examining why the Enlightenment philosophers considered kindness and politeness to be important, and went on to cover, inter-alia, the campaign to abolish slavery, the campaigns of the nineteenth century feminists, and, from the twentieth century, the disability rights movement, environmentalism, and the United Nations Universal Declaration of Human Rights. I think that if I had to choose the course that I enjoyed the most, it would be this one.
In the third and final year I wrote my dissertation. Those of you that are already familiar with my blog will know that one of my interests is disability rights, and that I have written the life stories of my parents, both of whom were disabled by polio as young children. So, you won't be surprised at my choice of research project, which was a study of the foundation of the British Polio Fellowship in 1939 and its work between 1939 and 1970. This charity was a self-help movement which in many ways was years ahead of its time; as most charities with this kind of ethos did not emerge until the 1960s. Writing a dissertation during various stages of lockdown is not to be recommended; the library that holds most of the relevant material for a dissertation about polio is the Wellcome Library in Central London, but at no point when I was working on this project was this library open to new readers. Other students will have had similar problems, so I guess we're all in the same boat. Anyway, these are trivial problems compared to what many other people have had to endure during the pandemic. At least it was my final year of university that was disrupted. I feel a lot of sympathy for those eighteen-year-olds who had to endure the stress of the 2020 A-level examinations fiasco, and then go into a university hall of residence to be solely taught online. They deserved better, and it's not the fault of the colleges that things weren't better for them.
The question that I'm asked most often is what next? Am I interested in a master's degree? I have to say that the answer is no. There is no government funding for the over -sixties to go further, and while there are scholarships, I think that there are many younger people who deserve them more than I do. I will carry on writing and start to update my seriously unloved and dated blog more often, starting now. But would I recommend going to Uni to other seventy-somethings. You bet I would!
Last month, my friend Steve and I walked forty four miles of the Pennine Way, from Bellingham, Northumberland to Kirk Yetholm in the Scottish Borders. The Pennine Way ends at the Border Hotel, Kirk Yetholm, but Steve and I have only walked just over half of the almost 300 mile route. We started five years ago and only spend about three days a year walking this beautiful but arduous national trail. We hope to finish before another five years is out.
We decided to walk Sunday, Tuesday and Thursday, and on our first day we set out from near the village of Bellingham (which is apparently pronounced Belling-jam) at about 10.30. Our plan was to walk just over eleven relatively flat - by Pennine Way standards - miles to the hamlet of Byrness that day. It was a warm but windy summer's day with alternate blue skies and grey clouds, and there was no rain. It was ideal weather for hill-walking.
You rarely meet anyone at all on the Pennine Way - on many of our walks we haven't seen a soul all day - and if you do meet other walkers the conversations are usually brief. It was almost lunchtime when we spotted another walker. We were walking a level, single file track that was to end soon. Just in front of us was a steep ascent, the steepest we would encounter that day. An elderly gentlemen, short and relatively round for a hill walker was struggling to get up after resting because he was burdened by a very large rucksack. Steve, who was ahead of me on the single track path, went to his aid and steadied his burden while the stranger pushed himself up using his walking poles.
I'm sixty seven and Steve is sixty nine, so I'm well aware that many people might describe us as "elderly gentlemen"; but Julian was the kind of elderly gentleman that even people who are themselves sometimes referred to as elderly gentlemen would describe as an elderly gentleman. His face was deeply tanned, he had a few days of stubble and spoke in a cut glass accent that implied that he was educated at one of England's more well-known public schools. I thought that he must be in his mid seventies.
Julian told us that he had started out from Edale - the Southern End of the trail - about twenty days ago; he'd lost count of the actual number of days. He just pitched his tent wherever he could find somewhere. He didn't like B&Bs because they were often off the trail, and you couldn't get started before 9.30. As we were in the week of the summer solstice, he liked to get going before 6am, which is the time that he had left Bellingham this morning. This is how slow his progress was - we started at much the same place four and a half hours later and we were about to overtake him.
I said that keen as we were on hill walking, the thought of travelling with our own tent and not sleeping in a bed for day after day was beyond our capabilities, and Julian said that he did miss not being able to shower; and that he had to carry his own food and cooking gear . For several days breakfast had been oatmeal porridge, and lunch was always a snickers bar. If he was lucky, he was able to pitch his tent near a pub, and that's where, some days, he got an evening meal. But now he only had about three days walking to do to finish the trail. Today, his destination, like ours, was Byrness.
Hill walking is gruelling. The idea of doing that, day after day, on so few calories beggars belief. My own preferred lunch when long-distance walking is a pork pie, a cheese roll, several tomatoes, an apple and a cereal bar. How can anybody do this on just a Snickers for heaven's sake?
We then wished each other luck, Steve and I pushed ahead, and as we were walking far faster than Julian, and we didn't expect to see him again as he was walking every day and we were only on the hills every other day. But you never know.
North of Byrness you find some of the most physically taxing parts of the Pennine Way. On Tuesday it took us fifty eight minutes to cover the first mile, so steep was the ascent; and over eight hours to cover the whole sixteen miles. On Thursday, our final day, you reach a height of 815 metres at the summit of The Cheviot, and strenuous activity at that height leaves you seriously short of breath.
It was the middle of a glorious sunny afternoon with minimal wind on our final day's walk from Cocklawfoot (which is possibly a place name but more likely a Scottish expression meaning the middle of nowhere) to Kirk Yetholm when we saw a figure in the distance coming towards us whose distinctive gait and slow pace identified him as Julian, even from a few hundred metres away. He was walking towards the start of the Pennine Way! Surely not! We hadn't thought that very likely.
Julian told us that since we last met four days ago he had spent two days nights on his own in Mountain Refuge Huts - emergency shelters provided by the National Park - one night at a campsite where they provided showers, laundry facilities and breakfast for less than twenty pounds, and for his final night he'd pitched his tent in the churchyard at Kirk Yetholm. He recommended churchyards because they were free, picturesque, nobody bothered you, and often close to a pub or a shop.
Steve's voice must have sounded incredulous when he asked him whether he was walking all the way back to Edale. "Oh No," replied Julian. "Just as far as Alston for a family reunion, then it's the London train. This is far too punishing, much harder than the Appalachian Trail".
Alston is 102 miles from Kirk Yetholm, at least six days walking the way Steve and I do it. Probably six days for Julian as well. it's just that his daily walk takes him about twice as long. And It turns out that Julian has walked over five hundred miles of the most famous trail in America. I've walked one mile, from a car park to a viewpoint in Tennessee. That's probably all I'll ever do.
We said our farewells. On the bar at the Border Hotel in Kirk Yetholm there is a Pennine Way visitor book, where people who've completed some or all of the trail sign their names and write a paragraph or two about their experience. I found Julian's entry. It was written in the most immaculate italic hand. Part of it was in Latin, which I don't read. He'd signed his full name, and his distinctive surname will be known to anybody who has studied British history. I Googled him. He's eighty, educated at Stowe and if his nephew dies before him he'll inherit the baronetcy.
You rarely meet anyone on the Pennine Way. It's usually a solitary pursuit.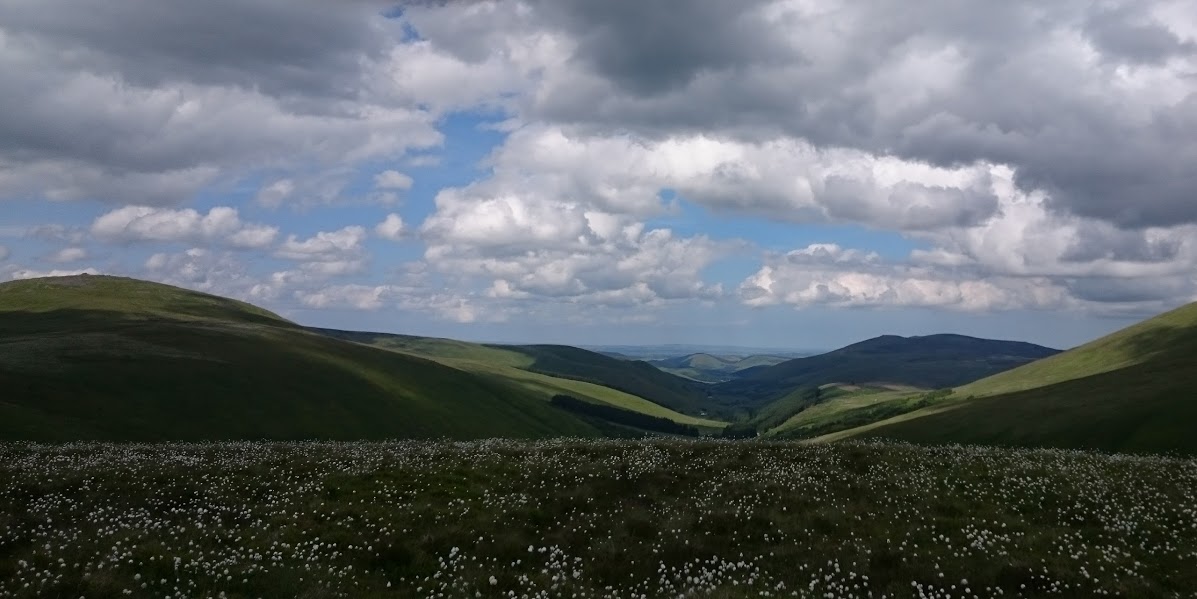 The view from the Mountain Refuge Hut at Schil, where Julian spent a night.
Sister Rosetta Tharpe was an American gospel singer, songwriter, guitarist and recording artist. Born on a cotton plantation in 1915, she became gospel music's first great recording star. Known as "the godmother of rock and roll" She was an early influence on, Johnny Cash, Chuck Berry, Elvis Presley, Led Zeppelin and the Rolling Stones. Her career peaked in the 1940s.
By the 1964 her career was in decline, she was broke, and in poor health. But when Mick Jagger cited her as a seminal influence, Granada TV decided to bring her to Manchester to record a TV show. As far as I know, Sister Rosetta never kept a diary, but if she had, this is how she might have recollected that trip:
Didn't it Rain
Oh my dear lord I never thought I would go to England. But Granada said they would pay all the expenses and organise the flights. But first of all I had to get a passport. That was harder than you think, because to get a passport you need a birth certificate, and like lots of children who were born on plantations at that time, my Mom never got around to getting me one. But the church intervened with the state department, and they persuaded Johnny Cash to write a letter of support to State. Johnny's from Arkansas like me, and his mom and dad were dirt poor too; he knows how fortunate he's been and likes to give others a helping hand. God bless him.
So my passport arrived and my agent got in touch with Granada. Thy advanced me the money to buy a new Gibson guitar, and a few days later we flew to overnight from Idlewild to Manchester. I say Idlewild but it's been renamed John F Kennedy, did you know that? His poor family. I still miss him and I'm sure you do. I'd never been on such a long flight before, and I was worried that the change of time zones would cause my diabetes to flare up. But I was fine, if a little tired for the first few days.
In Manchester the immigration people, the hotel staff and all the people we met at Granada were so polite and welcoming, we were treated quite differently to the way that colored folks are spoken to by officials here. But the accents! Some of them were so hard to understand! But I got used to it, you have to don't you?
Manchester is a big city, about the size of Chicago. All the buildings there are jet black. Covered in soot from the mill chimneys. This place is where all the cotton that my Mom and Dad picked was sent to be processed. To spin cotton you need a damp climate and oh my lord they found the right place there. It didn't stop raining from the day we arrived until the day we left. And it was supposed to be Spring!
And I was told that I'd be singing in the open air, in a disused railway station can you believe it? The audience would be sitting on one platform and we would be performing on the other one, that had been done up like a sharecropper shack. Or perhaps I should say that it had been done up like what a scene builder in Manchester thinks a sharecropper shack looks like. There sure were no wanted posters next to the front door of our shack in Arkansas but there were here.
So I had no decision to make about what my opening number should be. I've been singing "Didn't it Rain" in Church since I was six years old, and this must have been the place that the old negro spiritual singers had in mind:
Oh it rained forty days
And it rained forty nights
There was no land nowhere in sight
God send the angel to spread the news
He haste his wings and away he flew
To the East to the West
To the North to the South
All day all night how it rained how it rained
Cousin Joe Pleasence and I arrived on the platform in an open-top carriage pulled by a black and white horse. I was wearing a thick woollen overcoat that I'd bought the day before. The audience was nearly all young white folks - can you believe that? - and they were huddled together wearing raincoats. The applause as Cousin Joe helped me down from the carriage was so loud that it could have come from a much larger crowd. When I watched the film recording I released that as I stepped down I said "This is the most wonderful time of my life." It sure was. I'm too ill to travel now, and I'll probably only ever get that one stamp in my passport, but I'd love to go back to Manchester if I get well enough.
See and hear Sister Rosetta Tharp sing "Didn't it Rain" at Wilbraham Road Station, Manchester here:
http://https://'www.youtube.com/watch?v=SR2gR6SZC2M

Before there were supermarkets there were corner shops and counter-service grocery chains.
When I was a kid we lived just across the road from Mrs Scott's corner shop that sold all manner of tinned and packeted foods and household items, as well as butter, cheese and ham, fresh vegetables, a little fruit, sacks of firewood and Coalite ( a kind of smokeless coal I think, but it wouldn't meet today's definition of "smokeless"). The shop was a converted terraced house, and the fruit and veg was kept outside the shop on a market stall in what would have been the front garden. To get the coal and firewood you had to go round the back to the shed. The shop kept three people employed six and a half days a week; from dawn to dusk every day except Sunday when she shut the shop at 1pm. Mrs Scott was a woman in her sixties or perhaps her seventies when I was a teenager. She did not have a first name as far as I know. She was just Mrs Scott, a respected figure to the whole neighbourhood.
Working alongside here were her forty-something daughter and son-in-law, Annie and Ronnie. As late as 1980 Annie still had the most enormous beehive hairstyle that was fashionable in the early sixties. She hadn't noticed that fashion had moved on, probably because she worked such long hours in the shop that she never had time to observe. Ronnie's hairstyle was a Bobby Charlton style comb-over.
Lots of people who lived near us in Upper Edmonton would do all their shopping at Mrs Scott's, probably on tick. She would get anything anyone wanted; I've seen people carrying out TVs and Radios from that little shop. Mrs Scott didn't sell booze though, because the kind of affluent working class people who had a padded vinyl cocktail cabinet in their front room got it the Off-licence counter at the Rising Sun; and she didn't sell milk because everyone got it from the milkman.
We only used Mrs Scott's shop for top-ups. My Mum would have been appalled at the idea of buying food on tick, the shop was a little expensive, but most of all it wasn't accessible to my Mum's hand-propelled invalid chair. She needed to shop somewhere where she could see what she was buying, and on the main street, Fore Street Edmonton, there were the counter-service chains - The Home and Colonial Stores, The Maypole Dairy and Caters. Edmonton wasn't posh enough for Sainsbury's.
In the early sixties The Maypole didn't even have a fridge, When I used to walk past it on the way to school when I was eleven, there was a huge lorry outside delivering great big blocks of ice. They must have weighed tons. I will always remember the ice company's name on the side of the truck, which was:
The United Carlo Gatti, Stevenson, Slaters & Co. Ice Merchants
Yes, it was a very long truck, and apparently the London Canal Museum is now housed in what was Carlo Gatti's ice house in Islington.
Caters was the biggest grocery shop on Fore Street, and I worked there as a Saturday boy for about three years until I left school in 1966. I earned twenty five shillings a week. Cater Brothers was an old established family -run chain of stores with its roots in the East End that had, by the 1960s expanded northwards towards Enfield and beyond. The branch where I worked in Fore Street had seven counters. There were three wooden ones for tinned and packeted groceries, another wooden one for biscuits, which were sold loose and weighed out for each purchase. On the other side of the shop were three marble counters; one each for bacon and sausages (Caters were very proud of their bacon that they used to cure and smoke themselves), one for ham and cooked meats, and finally, by the back door, one for eggs butter and cheese.
Each new Saturday boy or Saturday girl started by filling the shelves behind the dry goods counter. If you were any good you got promoted to the biscuit counter where you would handle a till and scales for the first time, then to the dry goods tills, and then to one of the other counters where you would learn how to cut cheese, ham, and if you were a boy and if you mastered all those skills you would be taught how to operate a bacon slicer. Girls weren't allowed to do that, of course, as they couldn't be expected to lift a whole side of bacon. At least, that's what the firm said. I did learn how to operate this machine, and I'm actually quite proud that I acquired that manual skill - and it really is a skill - when I was about fifteen or sixteen.
To my disgust, when I was seventeen, health and safety legislation was passed. You had to be eighteen or older to operate the slicer. I had to go and work on the cheese counter for my final year at Caters.
The range of food we sold was, by today's standards very restricted. Before the UK joined what was then called the European Common Market, most fresh food was imported from the Commonwealth. We sold five types of cheddar; Australian (tasted like soap), New Zealand (mild), English (strong), Scottish (stronger still) and Canadian ( strong enough to clear your sinuses); as well as just three "continental" cheeses, Edam, Gorgonzola and Danish Blue. New Zealand cheddar was our biggest seller by a mile; I seem to remember that it cost three shillings and four pence (about 17p) per pound but I could be wrong. People used to shop little and often, the biggest selling items were a quarter pound block of cheddar and a quarter of gammon ham. Half a pound was a rarity, a whole pound was unheard of.
My cheese counter working day started half an hour before the shop opened, when I would get a fifty pound bock of Scottish cheddar out of a walk-in fridge at the back of the shop, put it on a marble bench and cut it into 20 half pound blocks and the remainder into quarters. I can still cut exactly one quarter pound of cheese by eye today. The day ended with putting the unsold food back into the fridges, spreading sawdust on the floor and sweeping it, before queuing up at the cash office for a brown envelope containing twenty-five shillings less a deduction of a few pennies for National Insurance. As I walked the few hundred yards home I must have reeked of cheese. The smell was so strong that I couldn't eat anything, let alone go out for a Saturday night without having a bath beforehand.
I worked at Caters full-time in many of my school holidays; I would get over Five pounds a week for that. If I was working in the week then one of my jobs would be to answer the doorbell at the goods entrance. Every Monday at about 11am John Knight & Sons would ring the bell to collect a week's supply of discarded bacon bones, skin and gristle that had been thrown into a huge metal bin at the far end of the warehouse. In summer time, the vat was hot and fermenting by the time it was collected.
So, who were John Knight & Sons and why did they want our bacon bones?
John Knight's were the makers of Knight's Castille soap. And a traditional soap making recipe just needs animal fats, wood-ash and something else that smells a lot nicer than wood ash and animal fats.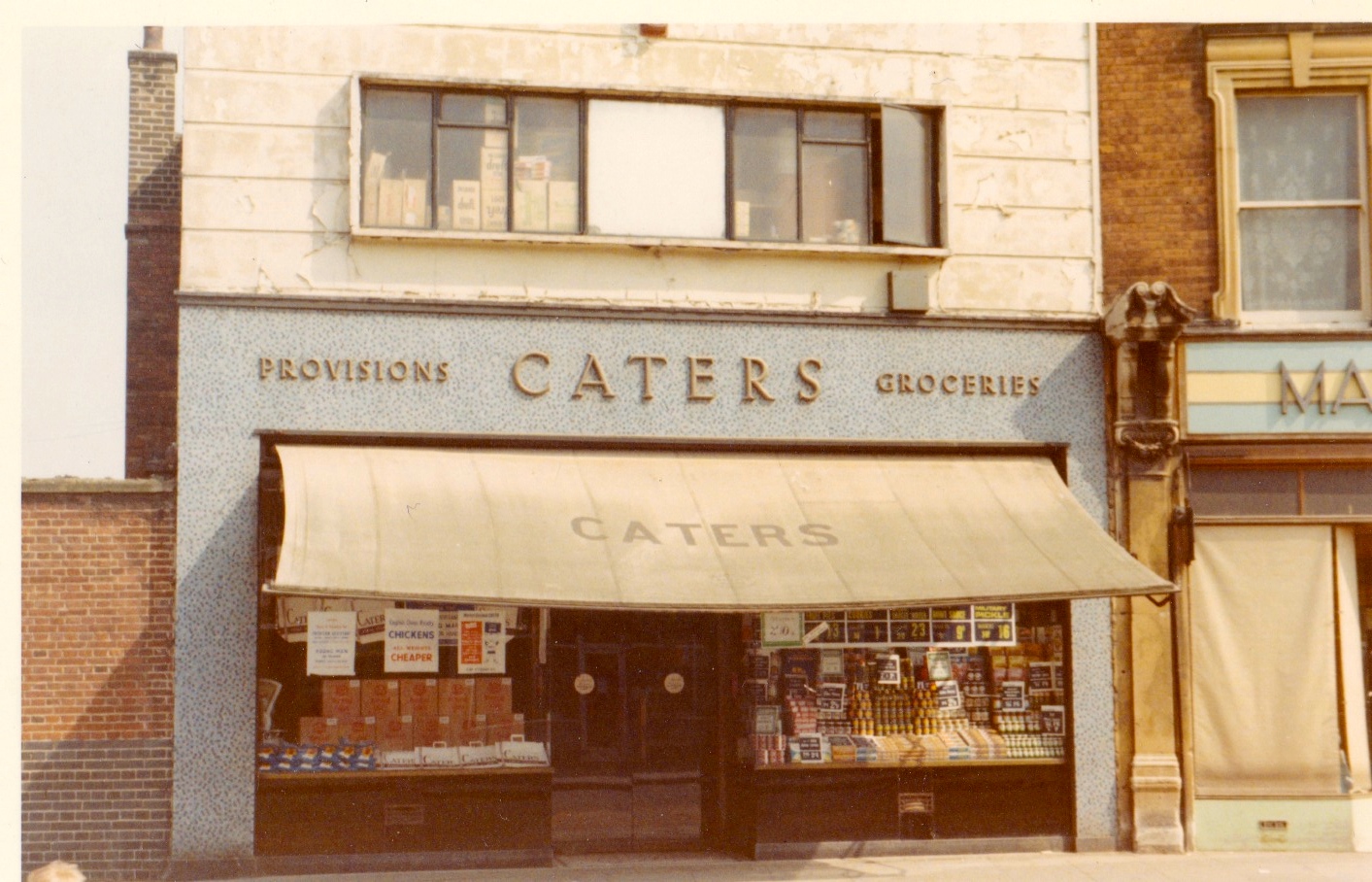 This is Caters branch on Edmonton Green. I haven't been able to find a picture of the Fore Street branch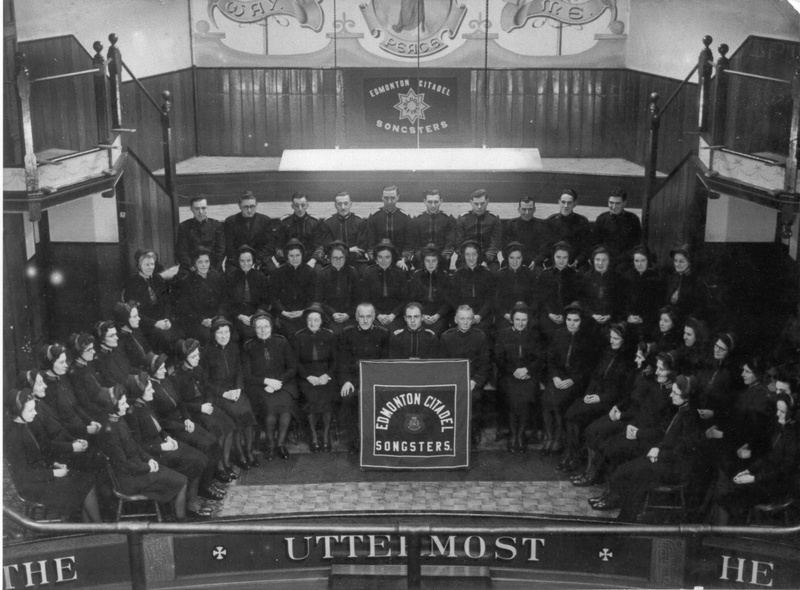 In "Live Eels and Grand Pianos" there's a chapter about my Auntie Floss and her companion Auntie Nellie. I tried at the time to get pictures of them in their Salvation Army uniforms, but failed. Enfield Archives have now unearthed this picture from 1946.
Nellie is fifth from the left in the front row, Floss is seventh from left. Really glad to have found this picture as Floss and Nellie's membership of the Salvation Army really defined them.
Every year, an estimated 3,000 children are removed from disabled couples in the UK by Childrens' Services. "Don't Take my Baby", first shown on BBC Three on July 20 2015, dramatises the story of one couple, Tom and Anna, as they set about the task of proving that they can be capable parents.
Tom (Adam Long) is partially sighted, as a result of an unnamed condition that he has inherited from his father, and Anna (Ruth Madeley) has a congenital muscle wasting disease. When she was two her parents were told she had two years to live, and now she still has two years to live. There is a chance that Dani (their baby daughter) could inherit one or both of her parents' conditions.
The play begins with Anna recording a video message for her infant daughter. We're not clear whether she's recording this message because she fears that Dani will be adopted against her parents' wishes, or because she fears that she will die before Dani has laid down any memories of her mother.
Video recordings are a common theme in Jack Thorne's script. We see Anna updating this message, we see Anna and Tom, as well as Tom's parents and Anna's mother being interviewed on camera by social worker Belinda (Wunmi Mosaku); as well as Tom and Anna being filmed by childrens' services while they learn how to care for their baby daughter. The whole process feels very intrusive and big brotherish. We wince when the well-meaning grandparents give honest replies to Belinda's questions that we think may not be entirely helpful to Tom and Anna's case. We share Tom's rage when Belinda calls at all hours of day and night to assess his capabilities as both Dani's and Anna's main carer. We wonder if he will go off the rails.
Anna's mum initially seems very distant from the couple, but we learn why. She was a single mum who brought up a severely disabled daughter who she was told would never survive infancy. When she heard of the pregnancy her first thought was that the act of giving birth would kill Anna.
But Tom doesn't go off the rails, and the couple convince an initially sceptical Belinda that they can, with the right support, nurture and care for their daughter.
My reasons for reviewing this drama is that sixty six years ago I was born the son of two seriously disabled people. My parents, Kathy and Charlie Bradford, had caught the polio virus as children, and I've told their story in my family memoir, "Live Eels and Grand Pianos".
So how is Tom and Anna's story different to Kathy and Charlie's almost seventy years old story? Kathy's mum, just like Anna's mum, was concerned that the act of childbirth could do her harm, she too took time to come to terms with her daughter's pregnancy. The topic of disabled people raising a family was newsworthy then, as it is now. Our family was extraordinary enough to be written about in The People and the Sunday Express.
Looking back, there is never a time in my childhood when there were no social workers around , but they were supportive, never judgemental. Mainly they organised assistance such as the twice weekly visits form the home help service who helped Kathy with housework, t It was a simpler age, and Charlie and Kathy and the young me never had the level of intrusion into their lives that Tom and Anna, and others like them, have today.
I understand why this level of intrusion is necessary but I'm really glad that it wasn't there when I was growing up and earlier, when my parents decided that they wanted to have a family. As Tom says in the drama "other dads with faults get to have a go, don't they?"
My name is Jeremy Bentham and for most of the past one hundred and eighty three years my skeleton has sat in a corridor in central London. It doesn't look like a skeleton because it's dressed in my clothes which are padded out with straw. You should come and see it, all you have to do is to come to University College London during normal business hours, and ask for me by name. The people on reception know me well. I usually sit at the end of the South Cloisters, except when there's a meeting of the College Council. On meeting dates my skeleton is solemnly wheeled into the Council Room to take its place among the present-day members. Its presence is always recorded in the minutes with the words Jeremy Bentham - present but not voting. That's what the legend says anyway. You can decide for yourself whether it's true or not. Just don't believe everything you read on the internet.
I should warn you though, that you can't see my real head. It's not what I intended when in 1832 I left my body to what was then the Webb Street School of Anatomy & Medicine, but back then people in London weren't very good at mummification. They tried to copy the process of desiccation, as practiced by the Maoris, but it went disastrously wrong, robbing my head of most of its facial expression, and leaving it decidedly unattractive - so they had to make a false one.
For over a hundred years they kept my badly mummified skull by my feet in the same cabinet as the rest of me, but by the 1950s student rag weeks became the fashion, and at least once each year my real head was stolen from the cabinet and paraded through the streets and tossed about by people wearing duffle coats, CND badges and college scarves. The University took a dim view of this, so nowadays my real head is locked away in a secret place and only ever brought out for research purposes. Even I don't know where my head is now. And I'm a philosopher!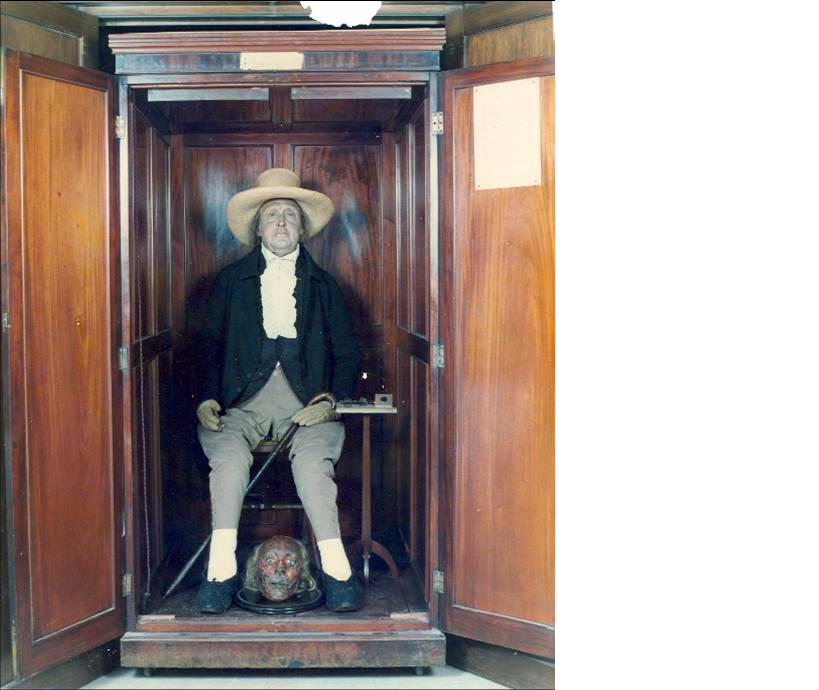 You've probably noticed that I refer to my skeleton in the third person, so I think that it is safe to assume that this is my soul talking, not my mortal remains, although the separation of body and soul was never my area of scholarship. My contributions to the great debates of my period ranged from legal and penal reform, the rooting out of corruption in the London Docks, and above all to the concept of Utilitarianism, which can be summarised by the statement that "the greatest happiness of the greatest number, is the measure of right and wrong".
I was the first philosopher to suggest that there might be a concept of "animal rights" and one of the first thinkers to suggest that man and woman are created equal. My essay "Offences Against One's Self", which was never published in my lifetime, argued for the liberalisation of laws prohibiting homosexual acts.
Some people said I was a bit paranoid. I complained that my ideas for penal reform were thwarted by the King and an aristocratic elite acting in their own interests. But I look at what the students here put on Twitter today, and many of them are making the same claims today, so was I wrong? And have things improved?
University College London acknowledges me as its inspiration, which is why my remains are on display here. Prior to UCL's foundation, only members of the Church of England were eligible to go to university. UCL was the first English university to admit all, regardless of race, creed, colour, political belief or ability to pay.
But the title of this piece is A Skeleton in the Cupboard and I nearly forgot to tell you about the cupboard. It's more of a display cabinet really, and it - and I - are collectively called the auto-icon. I sit on a stool in this mahogany and glass cabinet wearing my own clothes, and some of my smaller personal possessions are laid out on a small table so that I can see them. Beneath my stool (you can't see them) are a lot of scientific instruments that control the auto-icon's temperature and humidity. The cabinet is on castors, so that it could - if my vote were ever needed - be moved into the council chamber quite easily.
I died when I was eighty four in 1832, and I never married. I fell in love many times but my love was never reciprocated. Frankly I was just not good with girls - according to one of my biographers I made passes at hundreds of society beauties at country houses but they found me a bit strange - too obsessive and paranoid. So in my will I left my body for dissection, together with detailed instructions about how to preserve my remains in the auto-icon as well as £100 to this University which has taken good care of me since 1850.
I do love to get visitors, so if you're in Bloomsbury come and see me. And I love to read your thoughts about the things I cared about -penal reform, justice, equality, inclusivity, transparency and animal experiments. You can tell me about your visit on Twitter using my twitter name @jeremybentham32, but I'm not on Facebook. If you're a member of a creative writing group you can share a story about me with others. I've really enjoyed talking to you.
In 2006, when I was fifty-seven, I was made redundant. I wanted to find some constructive things to do while I looked for another job, and I heard that Richard was looking for people to read to him.
Richard was married to Ruth and they lived just a few miles from us, in Broxbourne. I had got to know Richard and Ruth through Marilyn, my wife. Both Marilyn and Ruth are artists who had co-operated in joint selling exhibitions from their respective homes. Both families had grown-up daughters of a similar age.
Richard was a biochemist. Originally an academic at Southampton University, he and Ruth had moved to Broxbourne in the 1980s when Richard joined the research team at Merck Sharpe and Dohme. Shortly after Richard joined Merck he was diagnosed with Multiple Sclerosis. The disease attacked Richard's central nervous system particularly aggressively; by the time that I was made redundant Richard had recently had to retire as by now MS had robbed him of the use of his legs and had also affected his eyesight, which is why he was looking for volunteer readers.
For the next six years I visited Richard and Ruth's house almost every Wednesday evening and read with Richard. We read about twenty-five books in that time, including works of fiction, biography, science, economics, politics and current affairs, history and travel. Some of the individual books were chosen by Richard, I suggested others. We read hardbacks, paperbacks, e-books, books we'd bought and books we'd borrowed.
The first book that I read was Richard Dawkins' The Ancestors Tale, a natural choice for a biochemist but not a book that would ever have made its own way on to my reading list without his help. But Dawkins deals with complex biological and genetic concepts in a very accessible, and very literary way. He borrows the structure of Chaucer's Canterbury Tales, structuring the narrative as a pilgrimage, with all modern animals following their own path through history to the origin of life. Humans meet their evolutionary cousins at rendezvous points along the way, the points at which the lineage diverged. I enjoyed The Ancestors Tale a lot, much to my surprise I decided that I liked reading science literature.
Ruth loves cooking and gardening and she's very good at both. She wasn't always at home when I was there, as she's a chorister and often I would be reading with Richard while she was at choir practice. But if she was there she would keep me supplied with delicious homemade cakes or fruit pies that she'd made from her own garden produce.
The next two books that we read were Bill Brysons' The Thunderbolt Kid and A Short History of Nearly Everything. Bryson, we discovered, was already a firm favourite of both of us, and so was Alan Bennett. We shared Bennett's Untold Stories in the autumn of 2008.
I introduced Richard to Paul Torday. The first Torday we read was Salmon Fishing in the Yemen, and we quickly followed that with The Irresistible Inheritance of Wilberforce. Wilberforce is a computer geek who starts, and then sells a multi-million pound software company. After the sale, he no longer has anything to occupy his time until he discovers fine wine. He is now a fully-fledged wine nerd. He has no other interests; wine has absorbed his entire life. Torday tells the story in four sections, each describing a different year, but in reverse chronology. The book begins in the year Wilberforce dies. He staggers around Mayfair, drinking 250 units of alcohol every week, and hallucinating. He spends six grand on two bottles of 1982 Petrus in a Michelin 5 star restaurant and drinks them alone at a table, then gets thrown out when he starts abusing the other diners.
This section really is very funny, in a tragic way. And when you' re reading aloud, your eye is about twenty or words ahead of the words that are coming out of your mouth. This meant that while I was reading about this incident I started to laugh, before Richard knew why I was laughing. But we'd both been laughing together earlier in the Chapter, both of us "got" Torday's sense of humour, and Richard trusted me enough to start laughing a split second before he knew exactly what he was laughing at. Paul Torday didn't let him down though. Richard was a big man, very tall and if his muscles hadn't started to waste because of MS, he would have been very muscular. He had a loud, deep throated laugh which got even louder when my speech finally caught up with my eyes and brain and we both dissolved into even bigger fits of laughter. The only resident of the house who didn't find it funny was the cat, who was asleep on Richard's lap. The cat woke up, gave us both a withering look and went into the next room to get some peace and quiet. This is my favourite memory of Richard, and it's why I say that I read with Richard, not to him.
As well as the twenty-odd books that we finished, there were a few that we gave up on. We'd both thoroughly enjoyed Terry Pratchett's Going Postal. Neither of us had read Pratchett before, and somebody had recommended this book to Richard. We both found it a very funny, very clever satire about global corporations, human rights and the excesses of the market economy. Enthused, we tried to read Pratchett's later novel Unseen Academicals, but neither of us could finish it. I think the problem is that there is such a large cast of characters, and if you're only reading the book once a week, you find it difficult to remember which characters you've met before and which you haven't. Another failure was Mark Haddon's The Red House. This book has a large number of very short chapters and sections of chapters, each written from the point of view of a different character, and I found it too difficult to convey these point of view changes to Richard while reading aloud. I subsequently finished it on my own.
Richard died in January 2013, almost two years ago, after a long series of critical illnesses and hospital stays caused by the progression of MS, and I still miss my visits to him and Ruth. During that six years both his and my elder daughter married, and both of our younger daughters graduated and began their careers. A lot of good things happened in parallel in both of our lives. Sometimes I'm browsing in a bookshop and I pick something up and think "Richard would like that". Then I usually, but not always, put it down again.

To: Mr Justice Spencer
C/o the Registrar of Criminal Appeals
Royal Courts of Justice
The Strand
London WC2A 2LL
18th December 2014
From: Andrew Bradford
Dear Mr Spencer,
The Trial of three security guards accused of the manslaughter of Jimmy Mubenga
I am a 66 year old retired banker who has never before thought it necessary to write to a judge. However I feel so strongly about the ruling you gave that the evidence of "racist texts" sent or received by at least one of the defendants was "inadmissible" that I wanted you to know that I feel that you may have presided over a serious miscarriage of justice.
After Mr Mubenga's inquest, the Coroner wrote:
"It seems unlikely that endemic racism would not impact at all on service provision. It was not possible to explore at the Inquest the true extent of racist opinion or tolerance amongst DCOs [Detainee Custody Officers] or more widely. However, there was enough evidence to cause real concern, particularly at the possibility that such racism might find reflection in race-based antipathy towards detainees and deportees and that in turn might manifest itself in inappropriate treatment of them."
In view of the Coroner's remarks, I think that the Jury had the right to hear this evidence. What is the point of having a jury at all if you don't give them all the facts of the case to consider? To unilaterally decide that the Jury hearing about the racist material would "release an unpredictable cloud of prejudice" in the jury is patronising and condescending and doesn't lead to fair trials.
I have no connection with any organised campaign on behalf of the Mubenga family or any other deportees. I am just a concerned citizen who thinks that your ruling was plain wrong and that justice has therefore not been done.
This is an open letter, I have posted it to my Twitter account. I would have emailed it to you so that you could see it before Twitter got hold of it, but nobody at the Royal Courts of Justice would give me your e-mail address.
Yours sincerely
Andrew Bradford
I've just been reading one of the many Wikipedia entries about Roosevelt. This one, entitled "Franklin D. Roosevelt's paralytic illness" casts doubt about whether the president actually had Polio, or whether he may instead have had Guillain–Barré Syndrome, a very rare neurological disorder that also causes paralysis.
This theory was put forward by five medical researchers at the University of Texas in 2003. They used statistical techniques to correlate the various symptoms observed during the early onset of the illness (some of which are common between both illnesses and some which are unique to one or other of them) with the annual number of reported cases of both illnesses in 1921. Of course, to classify the symptoms they had to rely on eighty year old physicians' notes that needed contemporary interpretation, and could no longer be clarified, since both the note writers and the patient were long dead. They came to the conclusion that " six of eight posterior probabilities favoured a diagnosis of Guillain–Barré syndrome." I am not a statistician, but I think that in layman's terms this means that they were 75% confident that he had Guillain-Barre and only 25% confident that he had Polio.
What these researchers did may be a valid form of medical research, but I can't help thinking that postulating such a theory diminishes the humanity of the man himself. The important facts to me are:
• Roosevelt was told he had Polio and thought of himself as a Polio survivor.




• He went on to found "The March of Dimes" Foundation in 1938. This became, by a wide margin, the largest charity in American history. From 1938 through the development of the Salk vaccine in 1955, the foundation spent $233 million on polio patient care, which led to more than 80 percent of U.S. polio patients' receiving significant foundation aid. It is still active today, funding research and treatment for a wide variety of childhood illnesses and birth defects.



The March of Dimes is an important part of Roosevelt's legacy, and would never have existed in its present form had he not been diagnosed with Polio. To posthumously diagnose the man with another disease is to treat him as merely as a medical case and to ignore his humanity.
/